Title: Lucas Oil Series at Magnolia Motor Speedway - 7/7 Results
Post by LMR on 07/06/12 at 9:28pm
---
Lucas Oil Late Model Dirt Series
Magnolia Motor Speedway
July 7, 2012
_____________________________________



Don O'Neal Dominates Clash at the Mag at Magnolia Motor Speedway






by James Essex
COLUMBUS, MS (July 7) - Don O'Neal of Martinsville, IN dominated the Columbus Convention Center and Visitors Bureau Clash at the Mag on Saturday Night at Magnolia Motor Speedway. O'Neal started ninth and took the lead from Wendell Wallace of Batesville, AR on lap 20 and then outran Scott Bloomquist of Mooresburg, TN the rest of the way to capture the $20,000 to win Lucas Oil Late Model Dirt Series event.
 
Bloomquist finished second followed by Scott Dedwylder of Vicksburg, MS who was the highest finishing home state driver. Earl Pearson Jr. of Jacksonville, FL came from 19th to finish fourth. He was the last car on the lead lap. Mike Marlar of Winfield, TN rounded out the top five finishers.
 
Wallace jumped to lead at the start, passing both Bloomquist and Billy Moyer on the opening circuit. O'Neal got things going early on as he sped from the inside of the fifth row to second place by lap five. O'Neal then patiently waited behind Wallace and jumped on the opportunity to take the lead on lap 20.
 
Bloomquist, who had dropped back to sixth at one point in the race after starting from the pole, rebounded nicely and marched back towards the front, taking the second spot just one lap after O'Neal had taken the lead. O'Neal and Bloomquist then raced in heavy traffic for a long period during the race as both drivers were lapping cars at a staggering rate.
 
Bloomquist closed in on O'Neal several times in the last half of the race, but O'Neal had the answer each time. Once Bloomquist got close, he would open up his lead over the two-time series champion. O'Neal then went on to score his ninth series win of 2012 and move into a tie with Bloomquist for second place in the championship points standings.
 
"The car was terrific, to get the win here in Jay Dickens' home area is special, he does such a great job with our engine program, thanks to all my crew. I don't what to say! We struggled a little bit in qualifying and in the heat race, we worked all night long and we went out to hot lap tonight, I knew we going to have a good car," said O'Neal, who turns 48 on July 10th.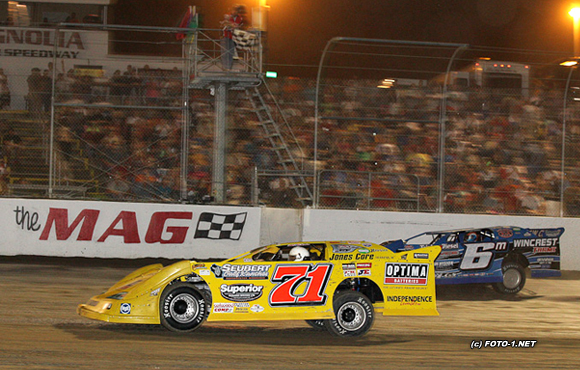 "Wendell was good early, but he got out of the groove there one lap and I was able to get by him. I decided I was going to run the bottom, I tried the top there a lap or two and that wasn't a good choice, so I got right back there on the bottom, when you lap people like Owens and Moyer, it doesn't happen very often, it's just a tribute to the team, Tader Masters, Cody Mahoney, and tonight we had Mike Price with us, they make my job easy."
 
"I have to thank all my sponsors, Optima Batteries, Seubert Calf Ranches, Independence Lumber, Tarpy Trucking, Superior Cleaning Services, Jones Core, Budda Bert Transmissions, Dragon Race Fuels, Ohlins and of course MasterSbilt Race Cars! Thanks to all the fans for coming out tonight as well" said O'Neal, who won for the 28th time in his LOLMDS career.
 
Completing the top ten were Steve Francis of Ashland, KY; Billy Moyer of Batesville, AR; Chris Wall of Springfield, LA; Jared Landers of Batesville, AR; and Jimmy Owens of Newport, TN.
 
In preliminary action, Jared Landers set the Red Buck Cigars Fast Time amongst the 50 entrants with a lap of 13.852 seconds. Heat races were taken by: Scott Bloomquist, Billy Moyer, Wendell Wallace, and Jimmy Owens. John Blankenship and Eric Wells won their respective B-Mains.
 
Lucas Oil Late Model Dirt Series
Race Summary
Saturday Night, July 7th, 2012
"Clash at the Mag"
Magnolia Motor Speedway - Columbus, MS
 
A-Main
1 9 71 Don O'Neal Martinsville, IN $20,000
2 1 0 Scott Bloomquist Mooresburg, TN
3 10 4c Scott Dedwylder Vossburg, MS
4 19 44 Earl Pearson, Jr. Jacksonville, FL
5 7 5b Mike Marlar Winfield, TN
6 11 15 Steve Francis Ashland, KY
7 3 21 Billy Moyer Batesville, AR
8 25 71w Chris Wall Springfield, LA
9 5 5 Jared Landers Batesville, AR
10 4 20 Jimmy Owens Newport, TN
11 2 6m Wendell Wallace Batesville, AR
12 8 11T Tyler Reddick Corning, CA
13 13 15d Jonathan Davenport Blairsville, GA
14 18 18e Eric Wells Hazard, KY
15 17 23 John Blankenship Williamson, WV
16 21 18H Ronny Lee Hollingsworth Northport, AL
17 12 33B Eric Cooley Fulton, MS
18 22 41n Brad Neat Dunnville, KY
19 15 86 Rick Rickman Columbus, MS
20 16 21JR Billy Moyer, Jr. Batesville, AR
21 20 1c Chad Thrash Meridian, MS
22 6 5bx Klint Byars Calhoun City, MS
23 24 31 Scott Creel Franklinton, LA
24 23 57 Shep Lucas McKenzie, AL
25 14 10W Rodney Wing Meridan, MS
 
Race Statistics
Entrants: 50
Lap Leaders: Wendell Wallace (Laps 1 - 19); Don O'Neal (Laps 20 - 100)
Caution Flags: Eric Cooley (Lap 4); Jason Wood (Lap 7)
Lucas Oil Late Model Dirt Series Provisionals: none
Lucas Oil Late Model Dirt Series Emergency Provisional: none

B-Main (12 Laps - Top 3 Advance): John Blankenship, Earl Pearson, Jr., Ronny Lee Hollingsworth, Chris Wall, Shane Harris, Scott Creel, Chris Hoomes, Mark Green, Larry Boutwell, Bo Gordon, Jamie Elam, Joseph Joiner, Neil Baggett, Dillon Wood, Jered Smith, Jimmy Cliburn-DNS, Ray Cook-DNS
 
Second B-Main (12 Laps - Top 3 Advance): Eric Wells, Chad Thrash, Brad Neat, Timothy Culp, Jason Cliburn, Robbie Stuart, BJ Robinson, Mike Palasini, Jr., Cale Finley, Todd Gray, Justin McRee, Brian Rickman, Leon Henderson, Shep Lucas, Richard Smith, Ross Camponovo-DNS, Jason Wilson-DNS

First Heat (10 Laps- Top 4 Advance): Scott Bloomquist, Jared Landers, Don O'Neal, Jonathan Davenport, John Blankenship, Jamie Elam, Jimmy Cliburn, Scott Creel, Shane Harris, Joseph Joiner, Chris Hoomes, Bo Gordon, Chris Wall-DNS
 
Second Heat (10 Laps- Top 4 Advance): Billy Moyer, Mike Marlar, Steve Francis, Rick Rickman, Earl Pearson, Jr., Ronny Lee Hollingsworth, Neil Baggett, Dillon Wood, Mark Green, Larry Boutwell, Ray Cook, Jered Smith-DNS
 
Third Heat (10 Laps- Top 4 Advance): Wendell Wallace, Klint Byars, Scott Dedwylder, Rodney Wing, Chad Thrash, BJ Robinson, Jason Cliburn, Brian Rickman, Shep Lucas, Ross Camponovo, Mike Palasini, Jr., Cale Finley, Richard Smith
 
Fourth Heat (10 Laps- Top 4 Advance): Jimmy Owens, Tyler Reddick, Eric Cooley, Billy Moyer, Jr., Eric Wells, Brad Neat, Timothy Culp, Robbie Stuart, Justin McRee, Leon Henderson, Todd Gray, Jason Wilson
 
Fast Time:
Jared Landers / 13.852 seconds (Group A)
Scott Dedwylder / 14.220 seconds (Group B)


The series will be back in action next weekend at Tri City Speedway in Pontoon Beach, IL and Lucas Oil Speedway in Wheatland, MO on Friday night, July 13th and Saturday night, July 14th. Both events will feature Red Buck Cigars Time Trials, Heat Races, B-Mains, and $10,000-to-win 50-lap main events. For more information on each event, log onto www.tricityspeedway.net and www.lucasoilspeedway.com.
 
For the latest breaking news on the Lucas Oil Late Model Dirt Series, log onto www.lucasdirt.com and be sure to follow the series at www.facebook.com/lucasdirt and www.twitter.com/#!/lucasdirt.