Title: Spring Nationals at Volunteer Speedway - 3/16 Results
Post by LMR on 03/16/13 at 9:46pm
---
Spring Nationals Series
Volunteer Speedway
March 16, 2013
________________________________________



Blankenship flexes muscle for Volunteer Speedway 'Spring Thaw' victory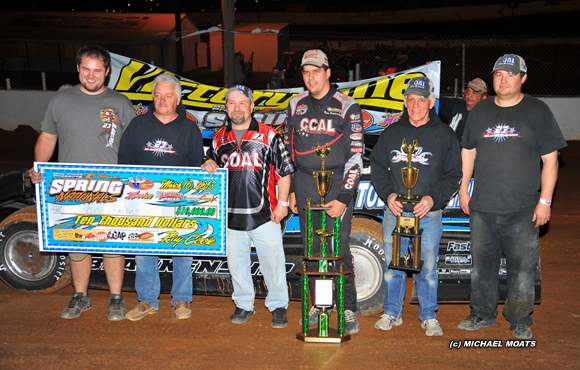 by Robert Walden
BULLS GAP, Tenn. (March 16) — John Blankenship grew up in Williamson, W.Va., but has called Knoxville, Tenn., his home for the past eight years. The 31-year-old turned in a dominant performance Saturday night in winning the Ray Cook-promoted Spring Nationals Series "12th Annual Spring Thaw" at Volunteer Speedway and pocketing $10,000 for the victory.

Blankenship toured the high banks at 13.413 seconds to set fast-time during qualifying over the 31 entrants. The four heat races were won by Blankenship, Chris Madden, Scott Bloomquist and Eric Jacobsen. Mark Douglas and Jared Landers each won a B-main, with Stacy Boles winning the last chance scramble to round out the 23-car starting lineup.

With the huge crowd in attendance standing on their feet for start of the 60-lap main event, they were cheering wildly on the opening lap when Madden dove to the inside of Blankenship and Bloomquist making it a three-wide scramble for the lead between turns one and two. The trio raced down the backstretch battling for real estate before Bloomquist moved to the point between turns three and four, with Blankenship and Madden in pursuit followed by Jacobsen and NASCAR Camping World Truck Series competitor Ty Dillon.

Billy Ogle Jr. got around Dillon for fifth racing off the fourth turn just two laps into race. Steve Casebolt was working his way forward from his eighth starting position, passing Dillon for sixth on lap 8.

But out front Bloomquist had the hard-charging Blankenship breathing down his neck during the opening 10 laps. Finally, on lap 13 between turns three and four with Bloomquist working lapped traffic and in the high groove, Blankenship powered his Coal World's Energy/Coal Save The Country/Bear Cove Village in Pigeon Forge/Todd Case Trucking/Integra Racing Shocks/Schaeffer Racing Oil/VP Race Fuels/Hoosier Racing Tires/Cornett Racing Engines/No. 23 Rocket Chassis, past Bloomquist to assume a lead he would never relinquish.




Blankenship immediately began pulling away from Bloomquist, who began feeling pressure from Madden for the runner-up position. Madden got around Bloomquist for the spot on lap 24 racing off turn two, and just behind them Casebolt was overtaking Ogle for fourth place. Casebolt kept mashing the loud pedal to get around Bloomquist for third in the running order on lap 26 as they raced between turns three and four.

With the race reaching halfway at lap 30, Blankenship was in command and had checked out on his closest challengers as he held a little over a full-straightaway advantage over Madden, Casebolt, Bloomquist and Ogle.

Ogle got around Bloomquist for fourth on lap 40 racing off the fourth corner. For the second consecutive night Casebolt and Madden were battling for position by throwing slide-jobs at each other. Casebolt finally cleared Madden and moved into second with a pass between turns three and four on lap 45. With 15 laps remaining to the checkers, Casebolt set his sights ahead and hoped to be able track down race leader Blankenship.

But there would be no denying Blankenship a trip to victory lane as he easily cruised to the $10,000 win over Casebolt, Madden, Ogle and Bloomquist.

Completing the top-10 finishers were Jimmy Owens, Dillon, Jacobsen, Dale McDowell and Mark Vineyard, with 10 cars running on the lead lap.




"I've won on the national tour with the Lucas Oil Late Model Dirt Series and those wins are special," said Blankenship after climbing from his car in victory lane. "But I'll have to say that finally being able to win a big race here at Volunteer Speedway like this and over such as strong field of competitors, this victory ranks right at the top for me in my career. You take guys like Scott (Bloomquist) and Jimmy (Owens), this track is their home turf where they've each won many races over the years. Also, (Chris) Madden and Dale (McDowell) have each won big races here too.

"Having lived here in East Tennessee now for several years and with our race team being located in Morristown, it's good to get this win for all the local fans. I want to thank my crew chief Tom Buckingham and all the guys (Bo Hickey, Tony Trent, Allen Champ, Trevor Crittenden, Logan Hickey and J.C. Crockett) who work on our team. We really had a great car tonight. With Bloomquist getting the lead over us there on the opening lap, I was thinking he was probably out front to stay. But we ran right with him and he wasn't able to get away from us. I was on his rear for a few laps until I was able to overtake him once we closed to rear of the field to start lapping the slower cars. Man, once I got around him I was like 'Yeah, I can win this race.' This Southern Nationals Series 'Spring Thaw' trophy really means a lot to me."

Teammates Jensen Ford and Tim Byrd led the stellar Fastrak Racing Series-sanctioned Pro Late Model field to the green flag from the front row. Ford grabbed the lead over Byrd between turns one and two, with Ricky Moore, John Tweed and Tim Maupin in tow.

A-Main    
1 1 23 John Blankenship Williamson, WV $10,000
2 8 c9 Steve Casebolt Richmond, IN
3 3 44 Chris Madden Gaffney, SC
4 7 201 Billy Ogle Jr Knoxville, TN
5 2 0 Scott Bloomquist Mooresburg, TN
6 6 20 Jimmy Owens Newport, TN
7 5 41 Ty Dillon Welcome, NC
8 4 5E Eric Jacobsen Seacliff Beach, CA
9 9 17M Dale McDowell Welcome, NC
10 14 4 Mark Vineyard Powell, TN
11 15 4T Tommy Kerr Maryville, TN
12 10 15 Steve Francis Ashland, KY
13 11 18E Eric Wells Hazard, KY
14 12 97 Michael Chilton Salvisa, KY
15 16 8 David Payne Murphy, NC
16 19 X Tyler Millwood Kingston, GA
17 18 5 Jared Landers Batesville, AR
18 22 88 Josh Collins Knoxville, TN
19 13 1H Vic Hill Morristown, TN
20 20 101 Casey Roberts Toccoa, GA
21 21 31 Skip Arp Georgetown, TN
22 17 52d Mark Douglas Knoxville, TN
23 23 11B Stacy Boles Clinton, TN

Race Summary:
Car Count: 31
Lap Leaders: Scott Bloomquist (Laps 1-11), John Blankenship (Laps 12-60)
Cautions: 0

Preliminaries:
Fast Time Group A: John Blankenship 13.413
Fast Time Group B: Scott Bloomquist 13.417

Heat #1 Finish (Top Four Transfer): John Blankenship, Ty Dillon, Dale McDowell, Vic Hill, Tyler Millwood, Skip Arp, Josh Henry, Joey Coulter

Heat #2 Finish (Top Four Transfer): Chris Madden, Billy Ogle, Jr., Eric Wells, Tommy Kerr, Mark Douglas, Stacy Boles, Sammie Russell, George Mashburn (DNS)

Heat #3 Finish (Top Four Transfer): Scott Bloomquist, Jimmy Owens, Steve Francis, Mark Vineyard, Jared Landers, Josh Collins, Ryan King, Cory Hedgec0ck

Heat #4 Finish (Top Four Transfer): Eric Jacobsen, Steve Casebolt, Michael Chilton, David Payne, Casey Roberts, Devin Friese, Victor Lee

B-Main #1 Finish (Top Three Transfer): Mark Douglas, Tyler Millwood, Skip Arp, Stacy Boles, Josh Henry, Joey Coulter

B-Main #2 Finish (Top Three Transfer): Jared Landers, Casey Roberts, Josh Collins, Devin Friese, Victor Lee

B-Scramble Finish (Winner Transfers): Stacy Boles, Josh Henry, Victor Lee, Joey Coulter, Devin Friese

CURRENT SPRING NATIONALS POINT STANDINGS:
1. c9 Steve Casebolt 390
2. 201 Billy Ogle, Jr. 388
3. 44 Chris Madden 386
4. 23 John Blankenship 386
5. 17m Dale McDowell 382
6. 41 Ty Dillon 366
7. 15 Steve Francis 364
8. 8 David Payne 360
9. 5 Eric Jacobsen 358
10. 4 Mark Vineyard 352
11. x Tyler Millwood 352
12. 18 Eric Wells 352
13. 0 Scott Bloomquist 344
14. 101 Casey Roberts 342
15. 5 Jared Landers 342

2013 SPRING NATIONALS SCHEDULE & WINNERS:
March 15 - Volunteer Speedway - Bulls Gap, TN (Dale McDowell - $4,000)
March 16 - Volunteer Speedway - Bulls Gap, TN (John Blankenship - $10,000)
April 12 - Tri-County Race Track - Brasstown, NC - $4,000 to win / $400 to start
April 13 - Smoky Mountain Speedway - Maryville, TN - $6,000 to win / $500 to start
April 18 - 201 Speedway - Sitka, KY - $4,000 to win / $400 to start
April 19- Ponderosa Speedway - Junction City, KY - $5,000 to win / $450 to start
April 20 - Cleveland Speedway - Cleveland, TN - $5,000 to win / $450 to start
May 9 - Duck River Raceway Park - Wheel, TN - $4,000 to win / $400 to start
May 10 - Boyd's Speedway - Ringgold, GA - $4,000 to win / $400 to start
May 11 - Dixie Speedway - Woodstock, GA - $6,000 to win / $500 to start