Title: SN at Volunteer Speedway - 3/14 Results
Post by LMR on 03/15/14 at 3:30am
---
FOR IMMEDIATE RELEASE
March 14, 2014
_______________________________________



Owens goes flag-to-flag in Spring Nationals Series event at Volunteer in new Club 29 Race Car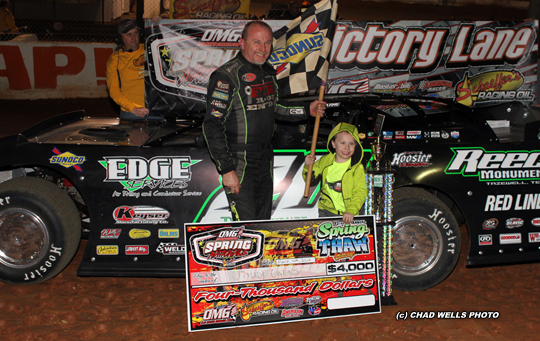 by Chris Tilley
BULLS GAP, TN (March 14) - Welcome to Club 29 Jimmy Owens.

Owens of Newport, TN scored his first victory for Darrell Laniganís Club 29 Race Cars on Friday Night March 14th during the Old Manís Garage Spring Nationals Series-sanctioned 13th Annual Spring Thaw event at Volunteer Speedway in Bulls Gap, TN.

Owens would come to victory while driving the Reese Monuments, Gantte Appraisals sponsored Cornett Racing Engines powered Club 29 Race Car for the $4,000 payday, his first Spring Nationals Series win. Owens made the 10th different winner in 10 races contested since March 2013.

FK Rod Ends Fast Qualifier Chris Madden and Owens would bring the field of 22 to the green flag for the start of the 40-lapper with Owens taking to the slick racing surface on the high-side and the commanding lead. Madden would tuck into second spot but Bloomquist, Eric Wells and Mike Marlar would quickly chase him down into the opening laps. Madden and Bloomquist would have a classic short track battle throughout the main but Bloomquist would never have enough momentum to get around Madden in the slick.

On the 13th lap, as Bloomquist was closing in on Madden for the runner-up spot, Bloomquist got tucked in behind lapped traffic allowing Madden to stretch out his second place run and allowed Eric Wells to close in on Bloomquist.

Two yellow flags slowed the event and would wave on the 16th lap as Steve Casebolt came to rest at the top of turn three. He retired to the pits and track clean-up crews tended to fluid left from his C9 MasterSbilt on the racing surface.




Racing returns on Saturday Night with earlier start times at the Spring Thaw Night Two paying $10,000 to win for the Old Manís Garage Spring Nationals Series presented by Schaefferís Oil at Volunteer Speedway.

Official Summary of Results
Old Manís Garage Spring Nationals by Schaefferís Oil
Volunteer Speedway-Bulls Gap, TN
Friday Night March 14, 2014
Points Event # 1

Feature Finish:
1. Jimmy Owens-Newport, TN
2. Chris Madden-Gray Court, SC
3. Scott Bloomquist-Mooresburg, TN
4. Mike Marlar-Winfield, TN
5. Eric Wells-Hazard, KY
6. Chad Ogle-Sevierville, TN
7. Casey Roberts-Toccoa, GA
8. Vic Hill-Mosheim, TN
9. Michael Chilton-Salvisa, KY
10. Tom Maddox-Centre, AL
11. Billy Ogle Jr.-Knoxville, TN
12. Donald McIntosh-Dawsonville, GA
13. Kenny Collins-Colbert, GA
14. Gabe Wilson-Waynesville, NC
15. Stacy Boles-Clinton, TN
16. Victor Lee-Stanford, KY
17. David Payne-Murphy, NC
18. Jeff Wolfenbarger-Clinton, TN
19. Mack McCarter-Gatlinburg, TN
20. Steve Casebolt-Richmond, IN
21. Mark Vineyard-Powell, TN
22. Mark Douglas-Knoxville, TN

Race Statistics
Entries: 34
FK Rod Ends $100 Fast Time: Chris Madden-13:290 seconds

Last Chance Heats/10 Laps/Top-4 Transfer:
Last Chance Heat-1 Finish: David Payne, Stacy Boles, Mark Vineyard, Tom Maddox, Mark Douglas, Chris Chandler, Austin Smith, Greg Estes, Robby Moses

Last Chance Heat-2 Finish: Billy Ogle Jr., Jeff Wolfenbarger, Mack McCarter, Donald McIntosh, Gabe Wilson, Joe Denby, Brandon Carter, Ryan King (DNS)

Last Chance Heat-3 Finish: Vic Hill, Kenny Collins, Steve Casebolt, Victor Lee, Ellery Leake, Dustin Linville, Bobby Mays, Jeff Franklin, Sammie Russell

Series Provisionals: None
Lap Leaders: Owens (1-40)
Lead Changes: None
Cautions: Two (laps 16, 37)
Red Flags: None
Time of Race: 19 minutes, 25 second