Title: SN at Volunteer Speedway - 3/15 Results
Post by LMR on 03/16/14 at 3:06am
---
Spring Nationals Series
March 15, 2014
_______________________________________



Madden is Mister Saturday Night with Spring Nationals win at Volunteer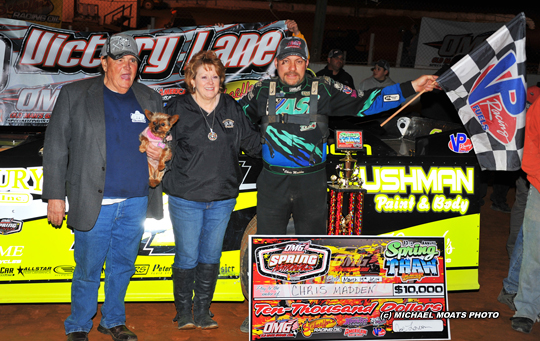 by Chris Tilley
BULLS GAP, TN (March 15) - Chris Madden took the lead from Eric Wells on lap 22 to claim the $10,000 payday in the final night of the 13th Annual Spring Thaw at Volunteer Speedway which was sanctioned by the Old Man's Garage Spring Nationals by Schaeffer's Oil. Madden claimed the $10,000 payday leading all 60 circuits for the impressive victory. This was Madden's third straight Saturday Night victory coming after the Bama Bash and the Tennessee Tip-Off Classic. Madden also became the 11th different winner in 11 Spring Nationals Series events contested since March 2013, there hasn't been a repeat winner since the tour's inception.

Madden drove to the victory in the Century Plastics, Hamrick's of Gaffney, Henderson Amusement, Cushman Paint & Body sponsored Clements Racing Engines powered Bloomquist Team Zero Race Car.

Scott Bloomquist had a hard-fought battle with eventual winner Chris Madden the night before for second spot and the top three including Eric Wells had a dog fight for the lead during the race's midpoint. Bloomquist would go around Wells for second spot on the 29th lap but never could overtake Madden for the lead. Bloomquist drove the Hawkeye Trucking, Ole Smoky sponsored Roush Yates Bloomquist Team Zero car to the weekend's second-straight podium finish. Wells drove to third while driving the Schaeffer's Oil, Allstar Performance, Convenient Lube sponsored Roush Yates powered Bllomquist Team Zero Race Car. Completing the top-five were Billy Ogle Jr. of Knoxville, TN and Mike Marlar of Winfield, TN.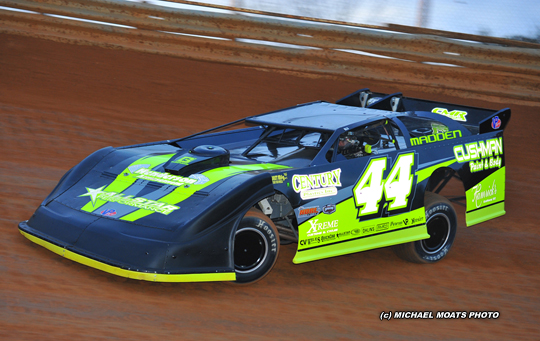 Three caution flags slowed the main event. The first caution flag was for Dustin Linville on lap nine trying to exit the track off of turn four. Jimmy Owens, who was trying to get underneath the lapped car of Linville, made hard contact with Linville putting severe damage on the Club 29 Car of Owens and knocking him out of contention for the second straight weekend victory. The second yellow was on lap-11 as a track officials had to be tended to for medical reasons after being struck by flying debris. The final yellow was on lap 46 as David Payne slowed at the top of turn four.

The Old Man's Garage Spring Nationals Series by Schaeffer's Oil will be back in action on March 28 at Tri-County Race Track in Brasstown, NC paying $4,000 to win followed by a visit to Smoky Mountain Speedway in Maryville, TN on March 29 paying $6,000 to win.

Official Summary of Results

Old Man's Garage Spring Nationals Series by Schaeffer's Oil
Smoky Mountain Speedway-Maryville, TN
Saturday Night March 15, 2014

Super Late Model Feature Finish:
1. Chris Madden-Gray Court, SC
2. Scott Bloomquist-Mooresburg, TN
3. Eric Wells-Hazard, KY
4. Billy Ogle Jr.-Knoxville, TN
5. Mike Marlar-Winfield, TN
6. Donald McIntosh-Dawsonville, GA
7. Casey Roberts-Toccoa, GA
8. Stacy Boles-Clinton, TN
9. Tommy Kerr-Maryville, TN
10. Chad Ogle-Sevierville, TN
11. Mack McCarter-Gatlinburg, TN
12. Victor Lee-Stanford, KY
13. Austin Smith-Cedartown, GA
14. Michael Chilton-Salvisa, KY
15. David Payne-Murphy, NC
16. Chris Chandler-Weaverville, NC
17. Vic Hill-Mosheim, TN
18. Mark Vineyard-Powell, TN
19. Mark Douglas-Knoxville, TN
20. Steve Casebolt-Richmond, IN
21. Jeff Wolfenbarger-Clinton, TN
22. Jimmy Owens-Newport, TN
23. Dustin Linville-Lancaster, KY
24. Gabe Wilson-Waynesville, NC

Race Statistics:
Entries: 32
FK Rod Ends Fast Time: Scott Bloomquist-12:227 seconds

Heat One Finish (10 Laps/Top-4 Transfer): Jimmy Owens, Scott Bloomquist, Donald McIntosh, David Payne, Austin Smith, Tom Maddox, Jeff Franklin, Ryan King (DNS)

Heat Two Finish (10 Laps/Top-4 Transfer): Eric Wells, Billy Ogle Jr., Jeff Wolfenbarger, Vic Hill, Kenny Collins, Gabe Wilson, Michael Chilton, Chris Chandler

Heat Three Finish (10 Laps/Top-4 Transfer): Chris Madden, Mike Marlar, Tommy Kerr, Chad Ogle, Mark Vineyard, Victor Lee, Joe Denby, Sammie Russell

Heat Four Finish (10 Laps/Top-4 Transfer): Mark Douglas, Stacy Boles, Casey Roberts, Mack McCarter, Steve Casebolt, Dustin Linville, Bobby Mays, Brandon Carter

Last Chance Race One Finish (10 Laps/Top-4 transfer): Austin Smith, Michael Chilton, Gabe Wilson, Chris Chandler, Kenny Collins, Tom Maddox (DNS), Jeff Franklin (DNS), Ryan King (DNS)

Last Chance Race Two Finish (10 Laps/Top-3 transfer): Mark Vineyard, Victor Lee, Dustin Linville, Bobby Mays, Brandon Carter, Joe Denby Steve Casebolt, Sammie Russell (DNS)

Series Provisional: Steve Casebolt
Lap Leaders: Wells (1-21), Madden (22-60)
Lead Changes: One
Cautions: Three (Laps 9, 11, 46)
Red Flags: None
Time of Race: 24 minutes, 19 seconds