Title: Lucas Oil Series at Brownstown Speedway - 3/22 Results
Post by LMR on 03/22/14 at 6:09pm
---
Lucas Oil Late Model Dirt Series
Brownstown Speedway
March 22, 2014
_______________________________________



O'Neal takes $10K Indiana Icebreaker victory at Brownstown Speedway






LOLMDS Media
BROWNSTOWN, IN (March 22, 2014) - Don O'Neal raced to his fifth career Indiana Icebreaker win on Saturday Night at Brownstown Speedway. It was O'Neal's first triumph for Clint Bowyer Racing and his 34th Lucas Oil Late Model Dirt Series victory and his 54th career win at Brownstown Speedway. O'Neal took the lead from Eddie Carrier, Jr. on lap eleven and led the remainder of the race. Carrier finished second followed by Steve Francis, Scott Bloomquist, and Kent Robinson. The 50-lap feature went caution-free.

Mike Ruefer Photos | Jim Denhamer Photos

"It's always good to come here and win at Brownstown. This is where I started my Late Model career and it's the first time I have won here in a Barry Wright Race Car. I want to thank the fans for coming out tonight. I would say they saw a great feature race. I have to thank Clint Bowyer, Lance and Barry Wright, my crew chief Jeremy Justice, and everybody else on the crew. The car was phenomenal!" exclaimed O'Neal in Lucas Oil Victory Lane. "I have to thank all of my sponsors, Peak Antifreeze and Motor Oil, Crawford Supply, Traeger Grills, Cometic Gasket, Ohlins, Georgia Boot and Clements Racing Engines."




Carrier was seeking his first ever win at the quarter-mile track. He paced the field early on and was a strong contender for the win, but O'Neal made his way around Carrier on lap eleven. "To run second here to Don O'Neal is quite a statement," said Carrier, who was looking for a clean sweep of the racing activities at Brownstown. "This Rocket car has been good all-year long at Golden Isles, East Bay, and here tonight. I thought we could get it done! We set fast time, won our heat, and led early, but O'Neal was just too tough. I have to thank Carl Grover for giving me this opportunity; we are off to a real good start this season."

While O'Neal and Carrier were firmly entrenched in first and second a terrific battle for third, fourth, and fifth was ongoing throughout the entire race. Francis, who started 11th, climbed to third after a torrid battle between Bobby Pierce and Scott Bloomquist allowed Francis to clear both of them with 17 laps remaining.

"We got it going a little too late," said Francis afterwards. "We probably needed a couple of cautions early-on to help us. To run first and third for Clint Bowyer Racing is awesome. We will take this success and head to the next race. This Georgia Boot Team needed a good run tonight and we got it."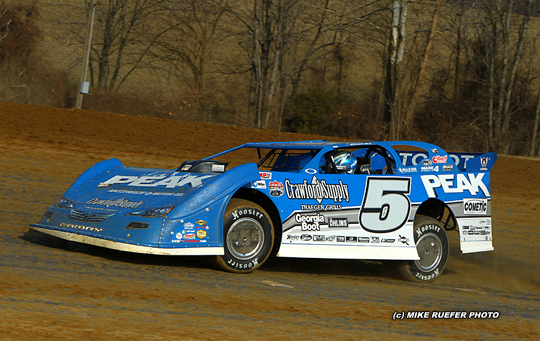 Completing the top ten were Pierce, Jeep VanWormer, Earl Pearson Jr., Ray Cook, and Devin Moran. With his win tonight, O'Neal took over the series championship point lead for the first time in 2014.

In preliminary action, Eddie Carrier Jr. set the overall Miller Welders Fast Time (Group A) amongst the ¬45 entrants, with a lap of 14.533 seconds. Scott Bloomquist set the fastest time in Group B with a time of 14.989 seconds. Eddie Carrier Jr., Don O'Neal, Scott Bloomquist, and Earl Pearson Jr. won their respective heat races. Duane Chamberlain and Shelby Miles won their respective B-Mains.

For the latest breaking news on the Lucas Oil Late Model Dirt Series, log onto www.lucasdirt.com

Lucas Oil Late Model Dirt Series
Race Summary
Saturday Night, March 22nd, 2014
Indiana Icebreaker
Brownstown Speedway - Brownstown, IN

A-Main
1 3 5 Don O'Neal Martinsville, IN 10,000
2 1 28 Eddie Carrier Jr Salt Rock, WV 5,500
3 11 15 Steve Francis Ashland, KY 3,500
4 2 0 Scott Bloomquist Mooresburg, TN 2,750
5 7 7r Kent Robinson Bloomington, IN 2,250
6 9 32 Bobby Pierce Oakwood, IL 1,800
7 6 55 Jeep VanWormer Pinconning, MI 1,500
8 4 44 Earl Pearson Jr Jacksonville, FL 1,300
9 8 53 Ray Cook Brasstown, NC 1,200
10 15 99m Devin Moran Dresden, OH 1,100
11 5 c9 Steve Casebolt Richmond, IN 1,075
12 10 6d Tim Dohm Cross Lanes, WV 1,050
13 13 12 Jason Jameson Lawrenceburg, IN 1,025
14 17 20c Duane Chamerlain Richmond, IN 1,000
15 19 21jr Billy Moyer Jr Batesville, AR 950
16 12 777 Jared Landers Batesville, AR 925
17 14 46 Tim Rivers Salem, IN 900
18 21 20 Jimmy Owens Newport, TN 875
19 16 81 Brian Shirley Chatham, IL 850
20 24 116 Randy Weaver Crossville, TN 825
21 25 28 Dennis Erb Jr Carpentersville, IL 800
22 26 23 John Blankenship Williamson, WV 800
23 27 7 Ricky Weiss Headingley, MB 800
24 22 12 Jason Hughes Westville, OK 800
25 23 5h Jeremy Hines Seymour, IN 800
26 18 76 Shelby Miles Bloomington, IN 800
27 20 97 Michael Chilton Salvisa, KY 800

B-Main #1
1 3 20c Duane Chamerlain Richmond, IN
2 2 21jr Billy Moyer Jr Batesville, AR
3 6 20 Jimmy Owens Newport, TN
4 1 32 Chad Stapleton Edinburgh, IN
5 5 99jr Frank Heckenast Orland Park, IL
6 8 116 Randy Weaver Crossville, TN
7 4 5h Jeremy Hines Seymour, IN
8 9 75 John Gill Mitchell, IN
9 10 p1 Tim Prince Heltonville, IN
10 14 18 Shannon Babb Moweaqua, IL
11 7 d8 Dustin Linville Bryantsville, KY
12 15 34 Steve Barnett Franklin, IN
13 12 16 Justin Rattliff Campbellsville, KY
14 11 77 Adam Bowman Seymour, IN
15 13 93 Zak Blackwood Columbus, IN

B-Main #2
1 3 76 Shelby Miles Bloomington, IN
2 2 97 Michael Chilton Salvisa, KY
3 1 12 Jason Hughes Westville, OK
4 8 81jr Jason Riggs Harrisburg, IL
5 7 23 John Blankenship Williamson, WV
6 11 28 Dennis Erb Jr Carpentersville, IL
7 4 25x Mike Benedum Salem, WV
8 13 91p Jason Papich Arroyo Grande, CA
9 9 84 Greg Johnson Bedford, IN
10 5 19 Marty O'Neal Spencer, IN
11 12 1n Casey Noonan Sylvania, OH
12 10 7 Joe Janowski Carmel, IN
13 6 7 Ricky Weiss Headingley, MB
dns 42 Terry Casey New London, WI

Heat #1
1 1 28 Eddie Carrier Jr Salt Rock, WV
2 2 c9 Steve Casebolt Richmond, IN
3 3 32 Bobby Pierce Oakwood, IL
4 4 12 Jason Jameson Lawrenceburg, IN
5 5 32 Chad Stapleton Edinburgh, IN
6 6 20c Duane Chamerlain Richmond, IN
7 7 99jr Frank Heckenast Orland Park, IL
8 10 d8 Dustin Linville Bryantsville, KY
9 11 75 John Gill Mitchell, IN
10 12 77 Adam Bowman Seymour, IN
11 9 93 Zak Blackwood Columbus, IN
12 8 34 Steve Barnett Franklin, IN

Heat #2
1 2 5 Don O'Neal Martinsville, IN
2 4 7r Kent Robinson Bloomington, IN
3 3 15 Steve Francis Ashland, KY
4 7 99m Devin Moran Dresden, OH
5 5 21jr Billy Moyer Jr Batesville, AR
6 6 5h Jeremy Hines Seymour, IN
7 8 20 Jimmy Owens Newport, TN
8 9 116 Randy Weaver Crossville, TN
9 10 p1 Tim Prince Heltonville, IN
10 11 16 Justin Rattliff Campbellsville, KY
11 1 18 Shannon Babb Moweaqua, IL

Heat #3
1 1 0 Scott Bloomquist Mooresburg, TN
2 2 55 Jeep VanWormer Pinconning, MI
3 4 6d Tim Dohm Cross Lanes, WV
4 3 46 Tim Rivers Salem, IN
5 6 12 Jason Hughes Westville, OK
6 8 76 Shelby Miles Bloomington, IN
7 5 19 Marty O'Neal Spencer, IN
8 7 23 John Blankenship Williamson, WV
9 11 84 Greg Johnson Bedford, IN
10 10 28 Dennis Erb Jr Carpentersville, IL
11 9 42 Terry Casey New London, WI

Heat #4
1 1 44 Earl Pearson Jr Jacksonville, FL
2 3 53 Ray Cook Brasstown, NC
3 2 777 Jared Landers Batesville, AR
4 4 81 Brian Shirley Chatham, IL
5 5 97 Michael Chilton Salvisa, KY
6 7 25x Mike Benedum Salem, WV
7 11 7 Ricky Weiss Headingley, MB
8 10 81jr Jason Riggs Harrisburg, IL
9 6 7 Joe Janowski Carmel, IN
10 9 1n Casey Noonan Sylvania, OH
11 8 91p Jason Papich Arroyo Grande, CA

Fast Qualifier: 28 Eddie Carrier Jr Salt Rock, WV 14.533