Title: Nine different winners in Ten LOLMDS Events, OíNeal leads points
Post by LMR on 03/26/14 at 4:00pm
---
Lucas Oil Late Model Dirt Series
March 26, 2014
_______________________________________



Nine Different Winners in Ten LOLMDS Events, Don OíNeal Takes Over Series Point Lead



WAYCROSS, GA (March 26) Ė The Lucas Oil Late Model Dirt Series has completed ten (10) sanctioned events so far in 2014, with nine (9) different drivers visiting victory lane to date. The series has seen some intense and fierce battles with competition at an all-time high. The Wrisco Feature Winners Category includes: Jonathan Davenport (GIS), Chris Madden (GIS), Steve Francis (GIS), Eddie Carrier Jr. (East Bay), Dennis Erb Jr. (East Bay), Bobby Pierce (East Bay), Billy Moyer (East Bay twice), Davey Johnson (East Bay) and Don OíNeal (Brownstown). Billy Moyer is the only repeat winner on the series so far in 2014.

The record for different winners on the LOLMDS was 23 in 2008. Wrisco Aluminum will present a cash award, at the year-end awards banquet, to the driver that wins the most feature events, on the series in 2014.

Don OíNeal from Martinsville, IN took over the top spot in the Lucas Oil Late Model Dirt Series championship point standings this past Saturday night with his win at the Indiana Icebreaker. Saturdayís win at the historic Brownstown Speedway was the first win for OíNeal, since stepping into the Clint Bowyer owned #5 Peak Antifreeze and Motor Oil Barry Wright Race Car in 2014. OíNealís win Saturday night was his 54th career victory at Brownstown Speedway in Brownstown, IN and his 5th career Indiana Icebreaker victory. OíNeal now leads the Lucas Oil Late Model Dirt Series Point Standings by 25 points over 4-Time LOLMDS Champion Earl Pearson Jr. of Jacksonville, FL and 30 points over Bowyer Racing team-mate, Steve Francis of Ashland, KY.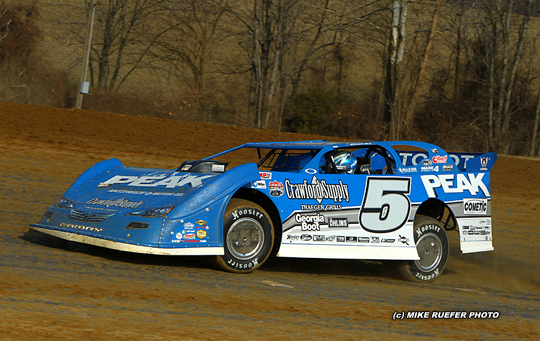 ďWere excited to get off to a great start this year and take over the point lead. Iím really glad to get my first win for Clint Bowyer and all the great sponsors that support his organization. Iím really excited about our team this year. Itís a testament to how hard our guys are working back in the shop for both Steve and myself to have a win on the series and in the top three in points already. Iím pumped up and ready to get some more wins and win a championship for CBRĒ, stated Don OíNeal.

Eddie Carrier Jr of Salt Rock, WV is off to a great start on the series with one win already and currently is in 4th place in the championship point standings, while John Blankenship of Williamson, WV sits in 5th place in the series point standings. Rounding out the top ten in the LOLMDS championship points standings include: Ray Cook of Brasstown, NC, Jimmy Owens of Newport, TN, Scott Bloomquist of Mooresburg, TN, Jared Landers of Batesville, AR and Brian Shirley of Chatham, IL.

The Lucas Oil Late Model Dirt Series will sit idle this weekend and resume the 2014 season with a three-race swing in the states of Mississippi, Louisiana and Oklahoma on the first weekend of April. The series will travel to Jackson Motor Speedway in Jackson, MS on Friday April 4th and then visit Ark-La-Tex Speedway in Vivian, LA on Saturday April 5th. The series will conclude the three-race swing with a visit to Outlaw Motor Speedway in Muskogee, OK on Sunday, April 6th. All three events will consist of Miller Welders Time Trials, Heat Races, B-Mains and a 50-Lap feature event, paying $10,000 to win and $800 to start. The April 4th event at Jackson Motor Speedway is the final event for drivers to declare their intentions to compete for the Dunn-Benson Ford Rookie of the Year for 2014. Series officials will officially announce the drivers competing for the 2014 Rookie of the Year, following this three-race weekend.

For the latest breaking news about the Lucas Oil Late Model Dirt Series, including the 2014 tour schedule, TV schedule, drivers, sponsors and all the information about the series, visit the official website at: www.lucasdirt.com.