Title: Lucas Oil Series at Penn Motor Speedway - 8/29 Results
Post by LMR on 08/29/15 at 10:40pm
---
Lucas Oil Late Model Dirt Series
Pittsburgh's Penn Motor Speedway
August 29, 2015
_______________________________________



Scott Bloomquist Wins Fifth Pittsburgher 100 at Penn Motor Speedway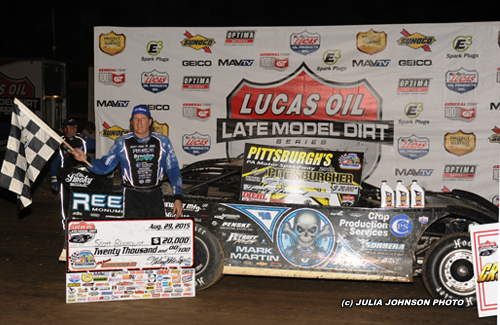 LOLMDS PR
IMPERIAL, PA (August 29) - Scott Bloomquist became the first 5-time winner of the Pittsburgher 100 on Saturday Night at Pittsburgh's Pennsylvania Motor Speedway. Bloomquist took the lead from Jonathan Davenport on lap 85 and then held off Davenport for the $20,000 win in the Lucas Oil Late Model Dirt Series-sanctioned event. Trailing Bloomquist and Davenport to the finish line were Don O'Neal, Jimmy Owens, and Dennis Erb Jr.

"This place is like the Talladega of dirt, it's big, its' fast, the racing is close, and it's a fun track to race on. We won the first time here in 1989 and we have loved coming here ever since. You know how that track is always going to be, slick fast is what I call it. I was just biding my time, conserving my tires, and once we got around Davenport I knew we were in good shape."

A caution with six laps to go bunched the field up one final time, but it didn't impact Bloomquist one bit. Bloomquist was the fourth different leader of the race and in Lucas Oil Victory Lane, he thanked his crew and sponsors, "I am so thankful for Mike Reece of Reece Monument Company, Crop Production Services, Mark Martin Automotive, Hawkeye Trucking, Lucas Oil, Base Fuels, Sorbera Chiropractic, Horton Coal, Dyna-Gro, and everyone else associated with our team. The Andy Durham Racing Engine was great as well."

Davenport maintained his points lead over Bloomquist in the championship standings. "We were gaining on Scott before that last caution and we sure didn't need that yellow. We don't have as many laps here as most of the guys, but my crew, Kevin and Lee Roy Rumley and Bryan Liverman worked hard all weekend on this car. I tried my best. It is a momentum track for sure. I want to thank TS Crane, Sundance Services, Sundance Flow Back Well Testing, and Mega Plumbing of the Carolinas. I hope the crowd enjoyed the show."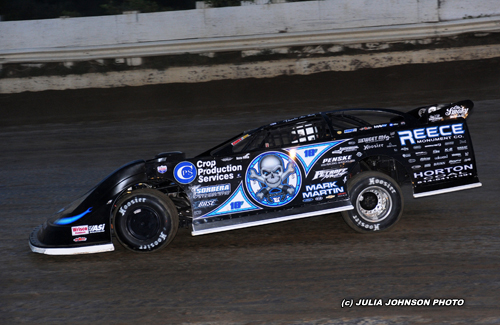 O'Neal nearly spoiled the race for the top two drivers in the country as he raced his way from 17th to third. At one point O'Neal had wrestled second away from Davenport, but couldn't quite make the slide job stick. "We won the first B-main and the car felt awesome. When the race started I knew I had a good handling car. The crew has changed everything all weekend long and we needed to finish well this weekend, that's for sure. When I slid into four and cleared Davenport my momentum just carried me against the wall, and I couldn't get enough grip to keep second. I hope the fans enjoyed that show," said the driver of the Clint Bowyer Racing, Peak Antifreeze and Motor Oil, Barry Wright Race Cars entry.

Completing the top ten were early leader, Josh Richards, Kent Robinson, Steve Francis, Keith Barbara, and Mike Marlar.

In preliminary action, Scott Bloomquist set the overall Miller Welders Fast Time (Group A) amongst the 36 entrants, with a lap of 18.376 seconds. Josh Richards set the fastest time in Group B with a time of 18.434 seconds. Scott Bloomquist, Jimmy Owens, Josh Richards, and Jonathan Davenport won their respective heat races. Don O'Neal and Kent Robinson won their respective B-Mains.

Lucas Oil Late Model Dirt Series
Race Summary
Saturday, August 29th, 2015
27th Annual Pittsburgher 100
Pittsburgh's PA Motor Speedway - Imperial, PA

A-Main
1 1 0 Scott Bloomquist Mooresburg, TN $20,000
2 4 6 Jonathan Davenport Mount Airy, NC
3 17 5 Don O'Neal Martinsville, IN
4 3 20 Jimmy Owens Newport, TN
5 7 28e Dennis Erb, Jr. Carpentersville, IL
6 2 1R Josh Richards Shinnston, WV
7 18 7R Kent Robinson Bloomington, IN
8 5 15 Steve Francis Ashland, KY
9 25 17b Keith Barbara South Park, PA
10 9 157 Mike Marlar Winfield, TN
11 14 28 Eddie Carrier, Jr. Salt Rock, WV
12 6 777 Jared Landers Batesville, AR
13 10 21B Chris Brown Spring, TX
14 8 1 Earl Pearson, Jr. Jacksonville, FL
15 11 B5 Brandon Sheppard New Berlin, IL
16 22 25Z Mason Zeigler Chalk Hill, PA
17 23 47 Tim Shaffer Alliquippa, PA
18 16 4b Jackie Boggs Grayson, KY
19 13 2 Brandon Burgoon McDonald, PA
20 19 22 Gregg Satterlee Rochester Mills, PA
21 12 1J Davey Johnson Greensburg, PA
22 20 99m Devin Moran Dresden, OH
23 24 0b Steve Baker Fairmont, WV
24 21 10 Alex Ferree Valencia, PA
25 15 56 Russ King Bristolville, OH

Lap Leaders:
Josh Richards (Laps 1 - 15);
Jimmy Owens (Laps 16 - 32);
Josh Richards (Laps 33 - 37);
Jimmy Owens (Laps 38 - 84);
Scott Bloomquist (Laps 85 - 100)

Cautions:
Debris (Lap 38);
Chris Brown (Lap 41);
Gregg Satterlee (Lap 47);
Brandon Sheppard (Lap 75);
Mike Marlar (Lap 96)


B-Main #1  
1 2 5 Don O'Neal Martinsville, IN
2 1 22 Gregg Satterlee Rochester Mills, PA
3 4 10 Alex Ferree Valencia, PA
4 6 0b Steve Baker Fairmont, WV
5 9 17b Keith Barbara South Park, PA
6 3 91 Tommy Beck Delmont, PA
7 5 14 Dan Angeliccho Greensburg, PA
8 8 4T8 John Flinner Zelionople, PA
9 7 36 Tony Musolino Pittsburgh, PA
10 10 44g Derek Stefanick Oakdale, PA

B-Main #2  
1 1 7R Kent Robinson Bloomington, IN
2 3 99m Devin Moran Dresden, OH
3 4 25x Mason Zeigler Chalk Hill, PA
4 8 47 Tim Shaffer Aliquippa, PA
5 5 75 Colton Flinner Allison Park, PA
6 6 11 Austin Hubbard Seaford, DE
7 2 H1 Jared Miley South Park, PA
8 9 69 Jon Hodgkiss Kennedy, PA
9 7 7m Michael Davis Rayland, OH
dns 27 Mike Pegher Wexford, PA

Heat #1
1 0 Scott Bloomquist Mooresburg, TN
2 15 Steve Francis Ashland, KY
3 157 Mike Marlar Winfield, TN
4 02 Brandon Burgoon Pittsburgh, PA
5 22 Gregg Satterlee Rochester Mills, PA
6 91 Tommy Beck Delmont, PA
7 14 Dan Angeliccho Greensburg, PA
8 36 Tony Musolino Pittsburgh, PA
9 17b Keith Barbara South Park, PA

Heat #2
1 20 Jimmy Owens Newport, TN
2 28 Dennis Erb Jr Carpentersville, IL
3 b5 Brandon Sheppard New Berlin, IL
4 56 Russ King Bristolville, OH
5 5 Don O'Neal Martinsville, IN
6 10 Alex Ferree Valencia, PA
7 0b Steve Baker Fairmont, WV
8 4T8 John Flinner Zelionople, PA
9 44g Derek Stefanick Oakdale, PA

Heat #3
1 1R Josh Richards Shinnston, WV
2 777 Jared Landers Batesville, AR
3 21b Chris Brown Longview, TX
4 28 Eddie Carrier Jr Salt Rock, WV
5 7R Kent Robinson Bloomington, IN
6 99m Devin Moran Dresden, OH
7 75 Colton Flinner Allison Park, PA
8 7m Michael Davis Rayland, OH
9 69 Jon Hodgkiss Kennedy, PA

Heat #4
1 6 Jonathan Davenport Blairsville, GA
2 1 Earl Pearson Jr Jacksonville, FL
3 1J Davey Johnson Greensburg, PA
4 4b Jackie Boggs Grayson, KY
5 H1 Jared Miley South Park, PA
6 25x Mason Zeigler Chalk Hill, PA
7 11 Austin Hubbard Seaford, DE
8 47 Tim Shaffer Aliquippa, PA
9 27 Mike Pegher Wexford, PA


For the latest breaking news on the Lucas Oil Late Model Dirt Series, log onto www.lucasdirt.com