Title: WoOLMS at Lernerville Speedway - 9/4 Results
Post by LMR on 09/04/15 at 9:14pm
---
World of Outlaws Late Model Series
Lernerville Speedway
September 4, 2015
_______________________________________



Clanton Scores 10th World of Outlaws Late Model Series Victory Of 2015 In Lernerville Speedway's Working Man 50


Points Leader Tunes Up For Rescheduled Firecracker 100 With 30th Career Win




WoOLMS PR
SARVER, Pa. (Sept. 4) - Shane Clanton of Zebulon, Ga., returned to his winning ways on Friday night, scoring a convincing victory in the World of Outlaws Late Model Series Working Man 50 at Lernerville Speedway.

Taking advantage of his position starting spot, Clanton jumped into the lead at the initial green flag and never looked back in his Ron Davies-owned Capital Race Car. He brushed off a mid-race threat from the Josh Richards of Shinnston, W.Va., en route to beating the red-hot Rocket Chassis house car driver by 0.932 of a second.

The $10,550 victory was the 10th of the 2015 WoO LMS for the 39-year-old Clanton, who snapped Richards's three-race win streak on the national tour. It also ended Clanton's personal eight-race winless stretch in WoO LMS competition and pushed his career win total to 30.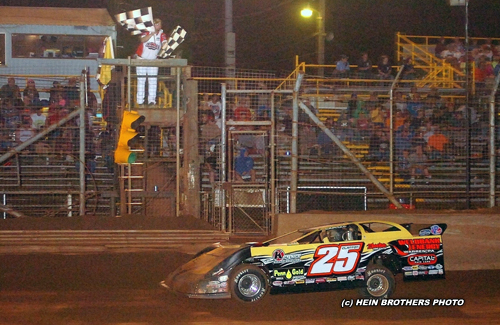 "Josh was just a little more maneuverable in traffic lately so we just had to work on our race car in race conditions," said Clanton, who was the runner-up in three of Richards's five WoO LMS A-Main wins over the six races leading into Friday's action. "We've had speed the past month, but he's started in front of me most nights and could get through better than I could — and he was just better than I was at Eriez (Speedway in Hammett, Pa., on Aug. 23).

"But tonight I was better than him. I could be aggressive in the race and pass cars whenever I wanted to, and when you got that much confidence in your car it's fun to drive."

Clanton's performance, which extended his already massive WoO LMS points lead to 158 markers over Richards with just six races remaining on the 2015 schedule, was his second of 2015 at Lernerville and provided him a boost of confidence entering Saturday night's rescheduled $30,000-to-win Firecracker 100.

"Right now everything's clicking and jelling," said Clanton, who won the first or two preliminary features for the Firecracker 100 in late June before the big event was postponed by rain. "Our car's just phenomenal — it showed tonight how good we are on a pretty slick racetrack. If it's like this (for the 100), we feel good tomorrow night. We got a good starting spot in a heat tomorrow, so if we have Lady Luck on our side maybe we can win another one."  




Richards, 27, hustled forward from the sixth starting to run second behind Clanton by lap six and briefly drew close to the leader after the halfway point. But the three-time WoO LMS champion lost ground to Clanton in the race's late stages and wasn't able to mount a serious challenge after caution flags on laps 42 and 48.

"I think we gambled on tires a little compared to the rest of the guys up front," said Richards, who used softer-compound rubber. "We were just biding our time early and we were gaining on Shane that first two-thirds of the race, but I think once the track cleaned up on that really long green flag run he could maneuver a little bit better with his right-rear tire.

"And then my right-front tire is actually going flat right now," he added while standing in victory lane after the race. "I don't know how long it's been doing that — I got really tight going into the corners, so it was good to come home second. I think it we tweak on it for tomorrow we'll have a good car."

Frank Heckenast Jr. of Frankfort, Ill., finished third, advancing from the eighth starting spot to record his career-best run at Lernerville. He reached third place on lap 10 and raced closed to Richards during the A-Main final circuits.




"Josh went a little bit softer on the right-rear and we were a car (length) away from him with like seven or eight (laps) to go so I thought we had a shot at second," said Heckenast. "I pushed my right-front (tire) off with 20 to go and it was getting really hard to steer, but I haven't been on this (post-race) stage before so I'm excited."

Veteran Davey Johnson of Latrobe, Pa., marched forward from the 12th starting spot to place fourth and Rick Eckert of York, Pa., finish fifth after starting in the position but slipping as far back as ninth midway through the race.

Finishing in positions 6-10 were Chub Frank of Bear Lake, Pa.; 16th-starter Brandon Overton of Evans, Ga.; Gregg Satterlee of Indiana, Pa.; Chase Junghans of Manhattan, Kan., who a Firecracker 100 preliminary feature in June; and Paul Wilmoth Jr. of Clarksburg, W.Va., who ran as high as sixth during the race's first half.

Five caution flags slowed the event.

The first two cautions were for stopped cars — on lap five for Kenny Pettyjohn of Millsboro, Del., and lap seven for Matt Lux of Franklin, Pa. A tangle involving Eric Wells of Hazard, Ky., and Michael Lake of Uniontown, Pa., slowed the race on lap eight, and the final two cautions were for drivers who ran into trouble while running fourth — first Alex Ferree of Saxonburg, Pa., who went over the turn-three bank with a flat tire on lap 42, and then Darrell Lanigan of Union, Ky., who clipped the homestretch wall on lap 48 and had to ride a wrecker back to the pit area.

A-Main
1 1 25 Shane Clanton Zebulon, GA (50)
2 6 1 Josh Richards Shinnston, WV (50)
3 8 99Jr Frank Heckenast Jr. Orland Park, IL (50)
4 12 1J Davey Johnson Greensburg, PA (50)
5 5 7v Rick Eckert York, PA (50)
6 7 1* Chub Frank Bear Lake, PA (50)
7 16 76 Brandon Overton Appleton, GA (50)
8 19 22 Gregg Satterlee Rochester Mills, PA (50)
9 9 18c Chase Junghans Manhattan, KS (50)
10 14 B1 Paul Wilmoth Clarksburg, WA (50)
11 22 11 Austin Hubbard Seaford, DE (50)
12 17 18 Eric Wells Hazard, KY (49)
13 13 14M Morgan Bagley Tyler, TX (49)
14 23 39 Tim McCreadie Watertown, NY (49)
15 24 99B Rick Briggs Bear Lake, PA (49)
16 4 29 Darrell Lanigan Union, KY (48)
17 26 10L Gary Lyle Hyde Park, PA (48)
18 2 10 Alex Ferree Valencia, PA (41)
19 18 b22 Bump Hedman Sugar Grove, PA (41)
20 15 72 Mike Norris Sarver, PA (37)
21 25 29s Ken Schaltenbrand Jr Sarver, PA (36)
22 11 H1 Jared Miley South Park, PA (15)
23 21 27 Michael Lake Uniontown, PA (9)
24 10 21 Billy Moyer Batesville, AR (7)
25 20 111 Matt Lux Franklin, PA (6)
26 3 38 Kenny Pettyjohn Millsboro, DE (5)

Last Chance Showdown #1
1 18 Eric Wells
2 22 Gregg Satterlee
3 27 Michael Lake
4 93 Pancho Lawler
5 10 Gary Lyle
6 75 Colton Flinner
7 7X Herman Bertolini
8 39 Tim McCreadie
9 14 Dan Angellicchio
10 29s Ken Schaltenbrand Jr
11 77 Jordan Yaggy
dns 3 Dan Swartzlander
dns 25z Mason Zeigler

Last Chance Showdown #2
1 B22 Bump Hedman
2 111 Matt Lux
3 11 Austin Hubbard
4 66 Todd Bachman
5 88 Chuck Sarver
6 7r Ross Robinson
7 3-D Bill Davis
8 44G Derek Stefanick
9 4J John Mollick
10 73 Devin Lewis
11 99B Boom Briggs
dns 23 Tony Burke

Heat #1
1 1* Chub Frank
2 25 Shane Clanton
3 18c Chase Junghans
4 14M Morgan Bagley
5 14 Dan Angellicchio
6 22 Gregg Satterlee
7 93 Pancho Lawler
8 7X Herman Bertolini
9 75 Colton Flinner
10 25z Mason Zeigler
11 39 Tim McCreadie

Heat #2
1 29 Darrell Lanigan
2 1 Josh Richards
3 21 Billy Moyer
4 B1 Paul Wilmoth
5 18 Eric Wells
6 27 Michael Lake
7 29s Ken Schaltenbrand Jr
8 77 Jordan Yaggy
9 10 Gary Lyle
10 3 Dan Swartzlander

Heat #3
1 99j Frank Heckenast Jr
2 38s Kenny Pettyjohn
3 H1 Jared Miley
4 72 Mike Norris
5 88 Chuck Sarver
6 4J John Mollick
7 3-D Bill Davis
8 99B Boom Briggs
9 7r Ross Robinson
10 11 Austin Hubbard
11 C33 Chris Casner

Heat #4
1 7 Rick Eckert
2 10 Alex Ferree
3 1J Davey Johnson
4 76 Brandon Overton
5 B22 Bump Hedman
6 111 Matt Lux
7 66 Todd Bachman
8 73 Devin Lewis
9 44G Derek Stefanick
dns 23 Tony Burke

Group A Qualifying
1 18c Chase Junghans 15.933
2 29 Darrell Lanigan 15.972
3 25z Mason Zeigler 15.976
4 1 Josh Richards 16.035
5 1* Chub Frank 16.101
6 21 Billy Moyer 16.112
7 39 Tim McCreadie Best 16.126
8 27 Michael Lake 16.211
9 25 Shane Clanton 16.240
10 B1 Paul Wilmoth 16.307
11 14M Morgan Bagley 16.386
12 18 Eric Wells 16.458
13 14 Dan Angellicchio 16.560
14 3 Dan Swartzlander 16.572
15 29s Ken Schaltenbrand Jr 16.701
16 93 Pancho Lawler 16.701
17 75 Colton Flinner 16.825
18 10 Gary Lyle 16.981
19 7X Herman Bertolini 17.437
20 77 Jordan Yaggy 21.689
21 22 Gregg Satterlee no time

Group B Qualifying
1 11 Austin Hubbard 15.797
2 10 Alex Ferree 15.912
3 99jr Frank Heckenast Jr 15.933
4 7 Rick Eckert 15.994
5 38s Kenny Pettyjohn 16.072
6 76 Brandon Overton 16.087
7 72 Mike Norris 16.126
8 111 Matt Lux 16.200
9 99B Boom Briggs 16.305
10 1J Davey Johnson 16.403
11 H1 Jared Miley 16.431
12 B22 Bump Hedman 16.656
13 4J John Mollick 16.718
14 66 Todd Bachman 16.762
15 88 Chuck Sarver 16.875
16 73 Devin Lewis 17.198
17 3-D Bill Davis 17.583
18 44G Derek Stefanick 17.737
19 7r Ross Robinson 18.203
20 23 Tony Burke 18.739
21 C33 Chris Casner no time




-