Title: CBC at Davenport Speedway - 9/11 Results
Post by LMR on 09/12/15 at 12:49am
---
Corn Belt Clash Series
Davenport Speedway
September 11, 2015
_______________________________________



Chad Simpson takes night one at Iowa Governorís Cup at Davenport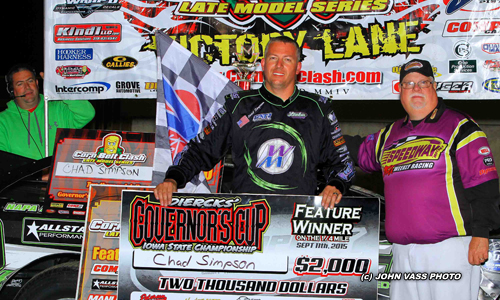 by Mike McGuire
DAVENPORT, IA (September 11) Ė Chad Simpson of Mt. Vernon, Iowa was the big winner Friday at the Davenport Speedway. Simpson dominated the Corn Belt Clash Late Model feature in night one of the Diercks-Iowa Governorís Cup. Fridayís races were held on the Davenport quarter-mile track.

Simpson started the 30-lap main on the pole and set a torrid pace through the first twenty-six laps. The caution flag flew on lap 27, when two cars collided in turn four. The restart put local favorites Brian Harris and Justin Kay right on Chadís rear bumper.

Simpson pulled away again on the restart and drove to the victory. Kay secured second place, with Harris finishing third. Paul Parker and Jason Rauen rounded out the top five.

Late model heat race wins went to Simpson, Matt Ryan, and Denny Eckrich.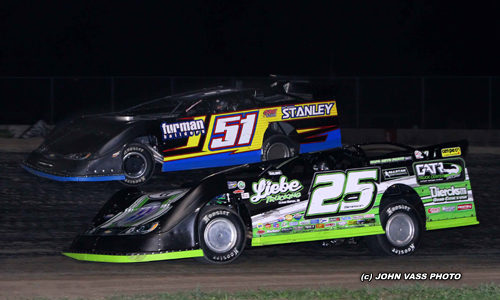 †
A tough field of Modifieds were on hand Friday night. Pole sitter Bruce Hanford led the first three laps, before yielding to Brad Dierks. A lap later, the raceís only caution flag flew. Dierks would lead the remaining distance for the win. Hanford held on for second, with Jeff Morris taking third. Dakota Hayden finished fourth. Matt Werner came from a sixth row start to finish fifth.

Werner, Dierks, Milo Veloz, and Brad Tyler won the modified heat races. Chris Lawrence and Greg Durbin won the consis.
†
Keith Blum held off a charging Nick Claussen to capture the Street Stock feature. Blum led all fifteen laps of the race that was slowed twice by caution flags. Claussen, who started 12th, used the high side to get to second, but ran out of laps. Rob Nylin finished third, followed by Perry Gellerstedt and Joe Bonney.

Ross Neal was able to get by early race leader Austin Moyer, en route to victory in the SportMod feature. Moyer settled in for a second place finish. Jacob Ellithorpe was third and Jacob Waterman fourth. Tim Current completed the first five.
†
Brandon Setser went flag to flag in the 4-Stock feature. Andy Loy finished in the runner-up spot. Sean Fersch, Tristan Clark, and Brad Rhoads finished third through fifth in that order.
†
Saturday night the racing action moves over to the historic Davenport half-mile track for the second night of the Diercks - Iowa Governorís Cup. All five classes will again be in action with the Corn Belt Clash Late Models racing for $5,000-to-win. Hotlaps are at 6p.m. and racing starting at 6:30p.m.

Iowa Governorís Cup
Friday night results

A-Main
1 25 Chad Simpson Mt. Vernon, IA $2,000
2 15K Justin Kay Wheatland, IA
3 21H Brian Harris Daventport, IA
4 10P Paul Parker, WI
5 98 Jason Rauen Farley, IA
6 31 Jason Utter Columbus Junction, IA
7 15A Nick Anvelink Bonduel, WI
8 29 Spencer Diercks Davenport, IA
9 33B Mark Burgtorf Quincy, IL
10 50 Denny Eckrich Tiffin, IA
11 65H Chuck Hanna Fort Byran, IL
12 58G Ray Guss Jr Milan, IL
13 58 Dave Eckrich Oxford, IA
14 51 Matt Furman Coulmbus, OH
15 9Z Lyle Zanker Rockford, IL
16 7 Matt Ryan Davenport, IA
17 28R Mark Rose Elcho, WI
18 6C Jay Chanowath Wapello, IA
19 54 Mike Fryer Freeport, IL
20 79W Greg Wagner Polo, IL
21 53B Leroy Brenner Aleto, IL

Heat #1
1 1 7 Matt Ryan Davenport, IA
2 2 15A Nick Anvelink Bonduel, WI
3 5 58G Ray Guss Jr Milan, IL
4 6 98 Jason Rauen Farley, IA
5 4 29 Spencer Diercks Davenport, IA
6 7 58 Dave Eckrich Oxford, IA
7 3 28R Mark Rose Elcho, Wi

Heat #2
1 2 25 Chad Simpson Mt. Vernon, IA
2 1 21H Brian Harris Davenport, IA
3 3 31 Jason Utter Columbus Junction, IA
4 4 54 Mike Fryer Freeport, IL
5 6 33B Mark Burgtorf Quincy, IL
6 5 51 Matt Furman Coulmbus, OH
7 7 53B Leroy Brenner Aleto, IL

Heat #3
1 1 50 Denny Eckrich Tiffin, IA
2 2 65H Chuck Hanna Fort Byran, IL
3 4 10P Paul Parker, WI
4 5 15K Justin Kay Wheatland, IA
5 3 9Z Lyle Zanker Rockford, IL
6 6 6C Jay Chanowath Wapello, IA
7 7 79W Greg Wagner Polo, IL