Title: Boyd's Speedway - 1/30 Results
Post by LMR on 01/30/16 at 7:02pm
---
Boyd's Speedway
January 30, 2016
_______________________________________



Donald McIntosh Captures 8th Annual Cabin Fever 40 at Boyd's Speedway






by Michael Despain
RINGGOLD, GA (January 30) - CT Promotions would sanction the 8th Annual Cabin Fever 40 at Boyd's Speedway on Saturday afternoon and Donald McIntosh of Dawsonville, GA would continue his ever early-season success by claiming the $3,500 payday in the event that saw a full grandstand and over one hundred race cars on the grounds on a picture-perfect day for January.

Chad Wells Photos | Thomas Hendrickson Photos

The win for McIntosh would come behind the wheel of the Blount Motorsports owned Blount Excavating/Massey Electric/Al Blankenship Enterprises/Cherokee Millwright/Tennessee RV Sales and Service/Stowers CAT Machinery sponsored #7 Rocket Chassis powered by a Vic Hill Race Engine. The win by McIntosh was his second of the new race season and saw him become the sixth different winner of the Cabin Fever 40 event.

Dale McDowell would take the early race lead in the 40 lap, $3,500 to win contest, with Donald McIntosh nipping at his heels, while Ethan Hunter, Tyler Millwood, and Michael Page would be in the top five by lap 3. McIntosh would continue to pressure McDowell for the point and on lap 6 would pull alongside of McDowell exiting turn four and the pair would race side-by-side before McIntosh would snag the lead from McDowell at the start/finish line on lap 7. The first caution of the event would appear on lap 9 when Cory Hedgecock's machine would slow on the frontchute with mechanical issues and have to be assisted back to the pit area. The restart would see McIntosh begin to set a torrid pace at the point and would begin the process of working slower traffic by lap 14. The second and final caution of the event would fly on lap 17 when third place running Page, and fourth place running Millwood would tangle in turn three, with Page having to pull pitside with his car too damaged to continue.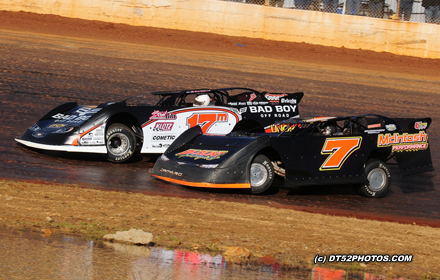 Once action resumed, McIntosh picked up right where he had left off prior to the caution period and was again working slower traffic by lap 23 and by lap 30 had pushed his lead to almost a half-track advantage over McDowell, who was now getting pressured by eighth starting Ray Cook for the runner-up slot. But McIntosh would not be denied on this day as he would continue to work traffic carefully over the final ten circuits and see the checkered flag first. McDowell would settle for second, while Cook rounded out the podium finishers with a third place effort. Jason Manley and Todd Hernandez would complete the top five. The remainder of the top ten would be 16th starting Jake Knowles, Riley Hickman, David Brannon, 15th starting Robbie Mason, and 19th starting Derek Ellis.

Official Summary of Results
CT Promotions Sanctioned 8th Cabin Fever 40
Boyd's Speedway- Ringgold, GA
January 30, 2016

A-Main
1 7 Donald McIntosh Dawsonville, GA 3,500
2 17m Dale McDowell Chickamauga, GA 2,000
3 53 Ray Cook Brasstown, NC 1,500
4 32 Jason Manley Loudon, TN 1,100
5 t6 Tod Hernandez Chattanooga, TN 1,000
6 66 Jake Knowles Tyrone, GA 800
7 R1 Riley Hickman Cleveland, TN 600
8 33 David Brannon Elora, TN 575
9 72 Robby Mason Hixson, TN 550
10 99 Derek Ellis Chatsworth, GA 525
11 X Tyler Millwood Kingston, GA 500
12 B4 Brian Jackson Chatsworth, GA 475
13 12 Ashton Winger Senoia, GA 450
14 27 Lucas Burns Attalla, AL 425
15 56 David Gentry Murfreesboro, TN  400
16 J1 Josh Johnson Winchester, TN 390
17 25 Matt Larson Marietta, GA 380
18 7N Clint Nichols Shelbyville, TN 370
19 7 Zack Dunsmore Cleveland, TN 360
20 76 Scott Shelton Cookeville, TN 350
21 15 Ethan Hunter Tiger, GA 350
22 18 Michael Page Douglasville GA 350
23 1h Jason Hiett Oxford, AL 350
24 23 Cory Hedgecock Loudon, TN 350