Title: MLRA at Lucas Oil Speedway - 4/9 Results & Photos
Post by LMR on 04/09/16 at 11:42pm
---
MLRA Late Models
Lucas Oil Speedway
April 9, 2016
__________________________________________________________



Shirley rolls to MLRA triumph in Spring Nationals finale at Lucas Oil Speedway






by Lyndal Scranton
WHEATLAND, Missouri (April 9) - Brian Shirley and his team made an overnight drive for the final night of the Lucas Oil MLRA 3rd Annual Spring Nationals Presented by RacingJunk.com. It was worth the trip.

The veteran Illinois driver, a night after a fifth-place run in a World of Outlaws Late Model race in Wheel, Tenn., led all 45 laps in a caution-free feature at Lucas Oil Speedway, picking up $5,000 on Saturday night.

Lloyd Collins Photos | Ron Mitchell Photos

The Late Model feature clicked off in 13 minutes with Shirley taking the other 23 drivers in the feature to the proverbial woodshed.

Bobby Pierce of Oakwood, Ill., made a run from a 13th starting position to finish a distant second. Nevada's Brantlee Gotschall came home a solid third to lead Ozarks-area competitors.

Shirley, of Chatham, Ill., earned his first-ever win at Lucas Oil Speedway. The winner's share included a $1,500 bonus from Pitts Homes, commemorating its 45th year in business, and $500 in memory of Ron Jenkins, who built the original Wheatland Raceway.

Shirley, a regular on the World of Outlaws Tour, said after the race in Tennessee he left it to his crew to decide where to race on Saturday. The scheduled WOO race Saturday at Tazewell (Tenn.) Speedway was cancelled due to cold weather.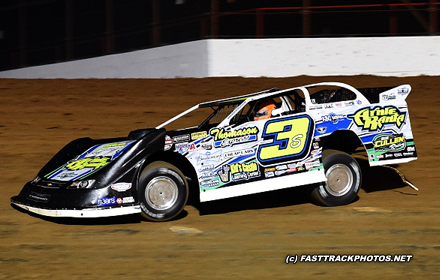 "They said, 'You want to go to Wheatland?' I said, 'I don't know. I'm going to sleep and whether we wake up in Wheatland or Springfield, Illinois, that's where we'll race.' "

The choice was a good one after the eight-hour haul. Shirley won his heat race in dominant  fashion, earning the pole position for the feature. He opened a clear lead, built it to half a lap by the mid-point and had plenty of margin over the hard-charging 19-year-old Pierce.

"It was that good and that made it real easy," Shirley said of his Longhorn Race Car. " I got to control where I wanted to be in lap traffic because I had such a big lead. We love coming to Lucas Oil Speedway and thankful to win my first race here."

Pierce, who's slated to run three NASCAR Camping World Truck Series races later this spring, was eating into Shirley's lead. But without a caution, he had no chance.

"It was $10,000 to win, I probably would have took somebody out," Pierce said, laughing. "We were really fast once the rear tires got going. It was a perfect track tonight. They hit it on the money. Thanks to the fans for coming out and congrats to Brian on the win.

"Maybe we'll be back for the Show-Me (100) and hopefully we'll have a better run," Pierce said.

Gotschall's strong finish came despite brake issues throughout.

"But we struggled through it and ended up pretty good. It's been a great night," he said.

Lebanon's Tony Jackson Jr. finished fourth with Randy Timms of Wheatland, Okla., fifth ahead of Billings' Jesse Stovall.


MLRA Late Models
April 9, 2016

A-Main: 1. Brian Shirley 2. Bobby Pierce 3. Brantlee Gotschall 4. Tony Jackson Jr. 5. Randy Timms 6. Jesse Stovall 7. Billy Moyer 8. Tyler Erb 9. Rodney Sanders. 10. Tad Pospisil 11. Terry Phillips 12. Jeremy Payne 13. Brad Looney 14. Austin Rettig 15. Jason Papich 16. Kyle Beard 17. Gavin Landers 18. Chris Brown 19. Jack Sullivan 20. Dave Eckrich. 21. Gordy Gundaker 22. Brandon McCormick 23. JC Wyman 24. Michael Kloos.

B-Main #1: 1. Chris Brown 2. Jason Papich 3. Kyle Beard. 4. JC Wyman 5. Tim Manville 6. Jimmy Mars 7. Austin Siebert 8. Reid Millard 9. Dalton Ragsdale. 10. Mike Stadel 11. Curt Acker 12. Justin Reed 13. Kyle Berck 14. Jason Krohn 15. Payton Looney 16. Bill Leighton.

B-Main #2: 1. Michael Kloos 2. Jack Sullivan 3. Gordy Gundaker. 4. Brandon McCormick 5. Darrel Moser 6. Robert Baker 7. Tommy Weder Jr. 8. Jacob Magee 9. Matt Buller 10. Josh Poe 11. Chris Cox 12. Larry Jones 13. Bryon Allison 14. Dustin Walker.

Heat #1: 1. Rodney Sanders 2. Billy Moyer 3. Tyler Erb 4. Bobby Pierce. 5. JC Wyman 6. Josh Poe 7. Bill Leighton 8. Tommy Weder Jr. 9. Justin Reed 10. Matt Buller.

Heat #2: 1. Tony Jackson Jr. 2. Terry Phillips. 3. Brantlee Gotschall. 4. Kyle Beard 5. Michael Kloos 6. Jacob Magee 7. Bryon Allison 8. Mike Stadel 9. Larry Jones 10. Curt Acker.

Heat #3: 1. Jesse Stovall 2. Tad Pospisil 4. Chris Brown 5. Jason Papich 6. Austin Siebert 7. Reid Millard 8. Chris Cox 9. Payton Looney.

Heat #4: 1. Randy Timms 2. Dave Eckrich 3. Jeremy Payne.  4. Robert Baker 5. Kyle Berck 6. Jack Sullivan 7. Dustin Walker 8. Dalton Ragsdale.

Heat #5: 1. Brian Shirley 2. Brad Looney. 3. Gavin Landers. 4. Darrel Moser 5. Gordy Gundaker 6. Tim Manville 7. Jaosn Krohn 8. Brandon McCormick 9. Jimmy Mars.