Title: Southern Nationals at Crossville Speedway - 5/21 Results
Post by LMR on 05/22/16 at 2:39pm
---
Southern Nationals Bonus
Crossville Speedway
May 21, 2016
__________________________________________________________



Donald McIntosh Tames Crossville Speedway for SNBS $5,000 Victory






by Chris Tilley
CROSSVILLE, Tenn. (May 21) - Donald McIntosh of Dawsonville, Ga. battled Mike Marlar of Winfield, Tenn. for most of the 50-lapper to claim his first-ever Southern Nationals Bonus Series victory in front of a packed grandstand at Crossville Speedway Saturday Night.
 
In winning Saturday's race at Crossville, McIntosh became the 19th different winner in series history and has now won on all three family of series (Spring, Summer & Bonus) while he drove the Blount Motorsports, Massey Electric and Stowers CAT-sponsored Rocket Chassis with a Vic Hill Racing Engine under the hood of his # 7 race-car.
 
Three caution flags slowed the 50-lap main event. Robby Moses, who was running inside the top-five, came to a stop on the front-chute with mechanical issues on lap-19 then Jason Welshan slowed in turn four to bring out the yellow flag on lap 35. The final yellow came on lap-39 as Skylar Marlar spun around in turn three after contact with John Ownbey. Marlar would have to be pushed pit-side for the rest of the race after damage on his machine.
 
With the win, McIntosh now inherits the points lead (four points) from Cory Hedgecock heading into Tri-County next Monday Night.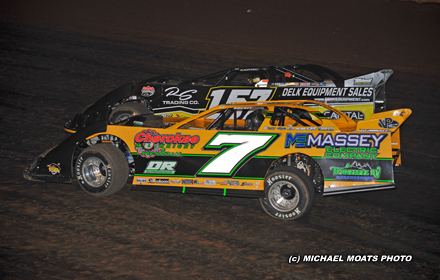 The next Southern Nationals Bonus Series race will be on Monday Night May 30th at Tri-County Race Track in Brasstown, NC during the Sixth Annual Circuit World Memorial Day Championship race paying $4,000-to-win. The Old Man's Garage Spring Nationals Series presented by Schaeffer's Oil will finish their tour with a three-race Georgia swing May 27-29. The series will visit Boyd's Speedway on Friday May 27th paying $4,000-to-win. The tour will visit Dixie Speedway in Woodstock, Ga. on Saturday May 28th paying $4,000-to-win and the series wraps up on Sunday May 29th at Rome Speedway in Rome, Ga. paying $6,000-to-win.
 
Official Summary of Results
 
Feature Results of "Plateau 50" at Crossville Speedway in Crossville, Tenn. on May 21, 2016:
 
1. Donald McIntosh-Dawsonville, Ga.
2. Mike Marlar-Winfield, Tenn.
3. Cory Hedgecock-Loudon, Tenn.
4. Shanon Buckingham-Morristown, Tenn.
5. Billy Ogle Jr.-Knoxville, Tenn.
6. Brandon Kinzer-Lexington, Ky.
7. Ryan King-Seymour, Tenn.
8. Stacy Boles-Clinton, Tenn.
9. David Payne-Murphy, N.C.
10. John Ownbey-Cleveland, Tenn.
11. Chris Meadows-Crab Orchard, W.V.
12. Jesse Lowe-Crossville, Tenn.
13. Jordon Horton-Sneedville, Tenn.
14. Kenny Collins-Colbert, Ga.
15. Skylar Marlar-Winfield, Tenn.
16. Drew Kennedy-Lancing, Tenn.
17. Chris Wilson-Crossville, Tenn.
18. Jason Welshan-Maryville, Tenn.
19. Anthony White-Clinton, Tenn.
20. Robby Moses-Maryville, Tenn.
21. David Crabtree-Maryville, Tenn.
22. Mark Vineyard-Powell, Tenn.
 
Time of Race: 23 minutes, 27 seconds
Margin of Victory: 00.785 seconds
Yellow Flags: Three (laps 19, 35, 39)
Red Flags: None
Lap Leaders: McIntosh (1-25), Marlar (26-28), McIntosh (29-50)
Entries: 30
FK Rod Ends Overall Fast Time: Donald McIntosh-13.098 seconds
Keyser Manufacturing 11th Place Award: Chris Meadows
Highest Finishing CT525 Engine ($200): None
Highest Finishing Steel Head/SPEC Engine ($200): Jesse Lowe
Schaeffer's Oil Last Car on Lead Lap Award ($100): Jordon Horton
Provisional Starters: Anthony White and Drew Kennedy
 
Dash Finish: Donald McIntosh, Cory Hedgecock, Mike Marlar, Robby Moses.
 
Heat-One Finish: Skylar Marlar, Jesse Lowe, Shanon Buckingham, David Payne, Tommy Bailey, Jason Markewitz, Ruben Mayfield.
 
Heat-Two Finish: Ryan King, Jordon Horton, Jason Welshan, Mark Vineyard, David Duplissey, Steve Smith.
 
Heat-Three Finish: Brandon Kinzer, Chris Wilson, Stacy Boles, Kenny Collins, Drew Kennedy, Tony Morris, Doug Smith.
 
Heat-Four Finish: Billy Ogle Jr., David Crabtree, John Ownbey, Chris Meadows, Anthony White, Bobby Giffin.
 
Current Southern Nationals Bonus Series Points (after May 21):
1. Donald McIntosh-592
2. Cory Hedgecock-588
3. David Payne-548
4. Ryan King-534
5. Jason Welshan-510
6. Anthony White-506
6. John Ownbey-506
8. Jesse Lowe-352
9. Drew Kennedy-342
10. Tony Morris-245

Further information on the Spring Nationals, Southern Nationals and Southern Nationals Bonus Series can be obtained by calling Promoter Ray Cook at (828) 360-5353 or Series P.R. Coordinator Chris Tilley at (606) 219-1723 or visit the official website located at  www.SouthernNationalsSeries.com .