Title: CCSDS at Crowley's Ridge Raceway - 6/9 Results
Post by LMR on 06/09/16 at 11:42pm
---
FOR IMMEDIATE RELEASE
June 9, 2016
__________________________________________________________



Sullivan Surges to COMP Cams Super Dirt Series Win at the Ridge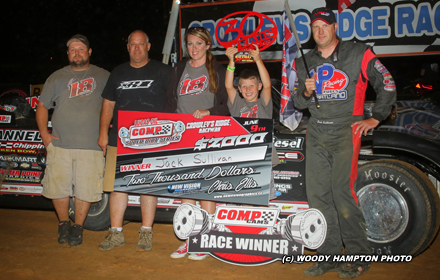 by Ben Shelton
PARAGOULD, Arkansas (June 9) – The COMP Cams Super Dirt Series (CCSDS) presented by Lucas Oil rolled into Crowley's Ridge Raceway on Thursday evening, where, Greenbrier, Arkansas' racer, Jack Sullivan charged to the $2,000 victory.

Kyle Beard was the Pole Sitter. As the 35-lap affair went green, Beard and Hunter Rasdon began to battle side-by-side for the lead.

Rasdon took over sole possession of the top spot on lap 6. The 4th-starting Sullivan worked past Beard just past the halfway point for the runner-up spot, and on lap-23 Sullivan took over the lead from Rasdon.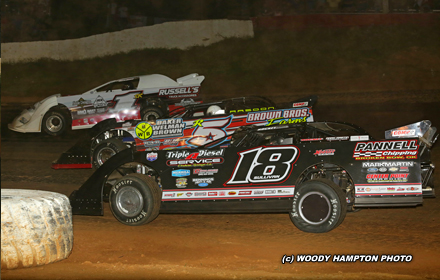 Jack Sullivan would go on to lead the final twelve laps to claim his 15th-career series victory and his second of the 2016 season. Beard, Rasdon, Jonathan Rowan, and Brandon Smith completed the Top-5 finishers.

During the evening's drivers meeting, competitors were notified that point leader, Austin Rettig had been penalized for a rules infraction regarding the May 7th, 2016 event at Ark-La-Tex Speedway. His penalty includes a 60-day suspension from COMP Cams Super Dirt Series competition as well as a fine. He also forfeits the points that he earned during that night's program and will be penalized an additional 200 points for the violation.

The payout and points for the other drivers at the event will be adjusted accordingly.

On Friday, June 10 the weekend's triple header of racing action will continue as the CCSDS competitors go into battle against the MARS Super Late Models in a $3,000-to-win/$400-to-start event at Outlaw Motor Speedway (Oktaha, Oklahoma). Tony Jackson Jr. scored the CCSDS win in 2015 at the facility. Grand Nationals, I-Stocks, and Pure Stocks will also be part of the show. Gates open at 4:00 p.m. with racing action at 7:30 p.m.


COMP Cams Super Dirt Series – June 9, 2016
Crowley's Ridge Raceway (Paragould, Arkansas)
 
Feature Results
1) Jack Sullivan 2) Kyle Beard 3) Hunter Rasdon 4) Jonathan Rowan 5) Brandon Smith 6) Robby Moore 7) David Payne 8) John Hill 9) Scott Tracer 10) Mason Oberkramer 11) Austin Theiss 12) Shane Stephens 13) Brandon Poppenheimer 14) Steven Crocker 15) Nathan Brown 16) Shannon Brack 17) Joseph Gorby 18) Josh Green 19) Mark Nichols 20) James West 21) Brandon Wilson

Entries: 21
Leaders: Hunter Rasdon (1-22), Jack Sullivan (23-35)
Cautions: 3
Red Flags: 0

Heat Race #1 Winner: Jack Sullivan
Heat Race #2 Winner: Hunter Rasdon
Heat Race #3 Winner: Kyle Beard


Event Photos courtesy of Woody Hampton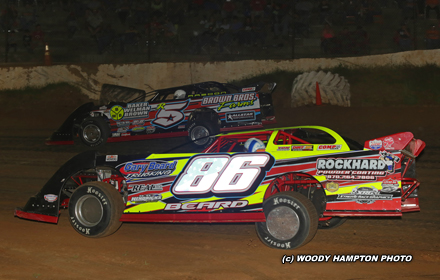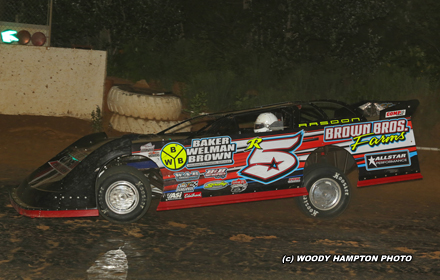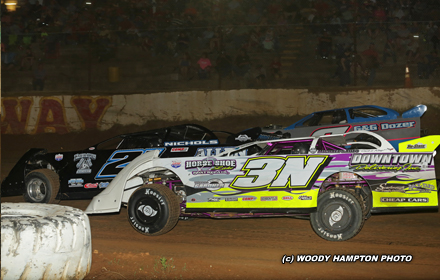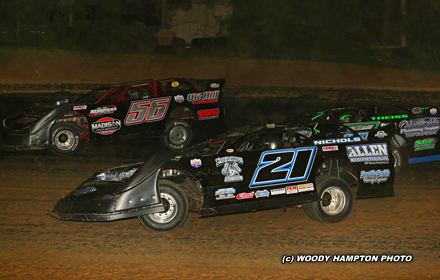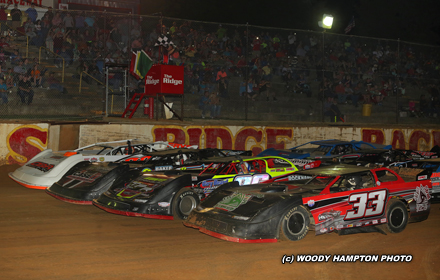 For the latest information on the COMP Cams Super Dirt Series presented by Lucas Oil, please visit www.COMPDirt.com .