Title: WoOCLMS at Lernerville Speedway - 6/25 Results
Post by LMR on 06/26/16 at 3:39am
---
World of Outlaws Late Model Series
Lernerville Speedway
June 25, 2016
_____________________________________________________________



Bloomquist Blossoms in Firecracker 100 finale at Lernerville Speedway


Overton captures first career series win in preliminary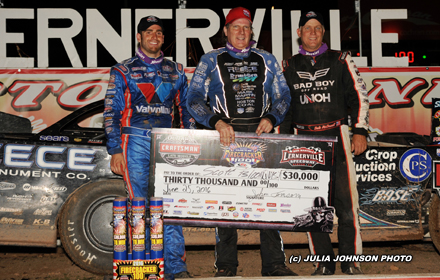 SARVER, Pa. (June 25) – Scott Bloomquist battled from eighth position Saturday night to win the Firecracker 100 finale presented by GottaRace.com at Lernerville Speedway in Sarver, Pa. Bloomquist collected his second World of Outlaws Craftsman Late Model Series win of 2016, tangoing with both front-runners in the series and regional favorites alike.

Regional top-gun Dale McDowell began the 100-lap feature strong, as if his No. 17m Bad Boy Buggies/ University of Northwestern Ohio Warrior car was shot from a cannon. McDowell contested for the lead in the leading laps of the race, only to soon get the top spot on lap 17.

While McDowell held the No. 1 spot, three-time series champion Josh Richards consistently pursued the lead – diminishing the one-second intervals between them to less than half-of-a-second. Bloomquist bought his time in third after charging to the front from mid-pack. Not only did Richards close the gap between him and McDowell, but a caution on lap 23 included Bloomquist in a fight for first.

On a nearly perfect restart, Bloomquist overtook Richards in turn two. Richards soon reclaimed the spot, wedging his No. 1 Valvoline/ Seubert Calf Ranches Rocket car underneath Bloomquist. It was a happenstance five laps later when another caution gave Bloomquist the opportunity to throttle past Richards on the restart. Bloomquist's No. 0 Crop Production Services / Reese Monument Co. Sweet/ Bloomquist machine succeeded.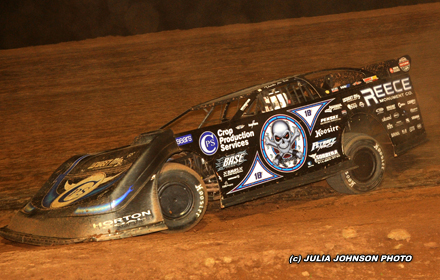 "Overall, the car handled super," Bloomquist said. "If you look at this car, we have a lot of good support on it. We just keep on digging."

Bloomquist sought out the lead. McDowell, who began to fade as the race progressed, found himself in a power-struggle with Bloomquist. McDowell held off Bloomquist's advances for a short time, only to forfeit the lead following a third caution on lap 52.

The top three remained a half-second within each other, though Richards fell more than one second back from the runner-up position briefly. Kicking his car into high gear within the final 20 laps, Richards reeled in McDowell, who rounded out the podium. McDowell led the majority of the laps on the night.

"Yeah, [Scott's] definitely one of the ones to beat," McDowell said. "When I had a little bit of grip, I was okay. We struggled all week to get a little bit of traction. It was a good end of the week for us. We're happy."

Then it was down to two – Bloomquist and Richards revisited their battle. With 10 laps remaining, Richards had a lot of real estate while Bloomquist weaved through lapped traffic. Though this predicament gave Richards a fighting chance, Bloomquist's stealth through the 28-car field built him enough of a cushion to fend off Richards. Bloomquist won the race by a 2.576-second margin.

"We just lacked a little bit..." Richards said. "Scott could turn just ever-so-slightly better, and that was the difference of winning. Scott did a good job. I mean, I'm still glad we were that close at the end."

The victory is Bloomquist's third Firecracker 100 trip to victory lane.

"We're used to overcoming adversity," Bloomquist said. "We got up early and got after it again for both shows. I wasn't interested in taking the lead too early. I ran every possible line I could run around this racetrack before I took the lead. I just wanted to see where I lost ground or gained ground. So when we got the lead, I knew where to put my car."

In the preliminary feature earlier in the day, 2015 Rookie of the Year Brandon Overton finally accomplished the win he said he would get "someday." Overton led all 30 laps to get his first career World of Outlaws win.

Victory lane was an emotional experience for Overton, tears collecting in his eyes as he mustered-up enough composure to address a full-capacity crowd. Overton placed third in Friday night's preliminary, but this win trumped any performance he has had so far in his career.

"I knew it was coming but... I just don't know what to say," said Overton, overwhelmed by the standing ovation from the fans. "My daddy went home yesterday because he wasn't feeling good. I just wish he stayed one more day. He spent every darn dime to get me here."

Overton opened-up a 3.171 lead on Bloomquist and Richard within the first ten laps of the race. He went on to win by a 1.257 margin. Richards finished runner-up to Overton, and Bloomquist rounded-out the podium.

"I'll tell you what, he's had it coming for a long time," Richards said. "He's a great racer. We gave it everything we had. Those guys did a great job. Congratulations to them."

6.25.2016 (Firecracker Finale)
10th Annual Firecracker 100 pres. by GottaRace.com (100 Laps, $30,000-to-win):
1. 0-Scott Bloomquist, Mooresburg, TN
2. 1-Josh Richards, Shinnston, WV
3. 17M-Dale McDowell, Chickamauga, GA
4. 1P- Earl Pearson Jr., Jacksonville, FL
5. 116- Jonathan Davenport, Blairsville, GA
6. 39-Tim McCreadie, Watertown, NY
7. 7- Rick Eckert, York, PA
8. 25-Shane Clanton, Zebulon, GA
9. 22-Gregg Satterlee, Indiana, PA
10. 21JR- Billy Moyer Jr., Batesville, AR
11. 76- Brandon Overton, Appleton, GA
12. 2-Dan Stone, Thompson, PA
13. C9- Steve Casebolt, Richmond, IN
14. 1*-Chub Frank, Bear Lake, PA
15. 18-Eric Wells, Hazard, KY
16. 18c-Chase Junghans, Manhattan, KS
17. 14M-Morgan Bagley, Longview, TX
18. 56-Russ King, Bristolville, OH
19. H1-Jared Miley, South Park, PA
20. 99Jr-Frank Heckenast Jr., Frankfurt, IL
21. 38- Kenny Pettyjohn, Millsboro, DE
22. 3S- Brian Shirley, Chatham, IL
23. 1B- Mike Benedum, Salem, WV
24. 72C- Jason Covert, York Haven, PA
25. 25z-Mason Zeigler, Chalk Hill, PA
26. 10-Alex Ferree, Saxonburg, PA
27. 1c-Mike Pegher Jr., Wexford, PA
Heat Race Winners: Richards, Shirley, Davenport, Bloomquist
Last Chance Showdown Winners: Benedum., Heckenast Jr.

Uncle Sam 30 Non-Qualifiers Race (30 Laps, $3,000-to-win):
1. 11S- Austin Smith, Cedartown, GA
2. 111- Matt Lux, Franklin, PA
3. B22- Bump Headman, Sugar Grove, PA
4. 44S-Dave Hess Jr., Waterford, PA
5. 2M- Allen Murray, San Antonio, TX
6. 29S-Ken Schaltenbrand, Sarver, PA
7. 94- Charles Powell Jr., Brookville, PA
8. 91- Tyler Erb, New Waverly, TX
9. 14-Dan Angellichio, Mt. Pleasant, PA
10. 10L-Gary Lyle, Leechburg, PA
11. 73- Devin Lewis, Weedville, PA
12. 66-Todd Bachman, Natrona Heights, PA
13. 2C- Joey Coulter, Miami Springs, FL
14. 3- Dan Swartzlander, Freeport, PA
Car Count Total
World of Outlaw Craftsman Late Models: 44

Contact: Lernerville Speedway
Eric J. Westendorf, Public Relations Director