Title: Davenport Speedway - 7/1 Results
Post by LMR on 07/02/16 at 1:29am
---
Davenport Speedway
July 1, 2016
_____________________________________________________________



Kay takes Iowa Governorís Cup crown at Davenport Speedway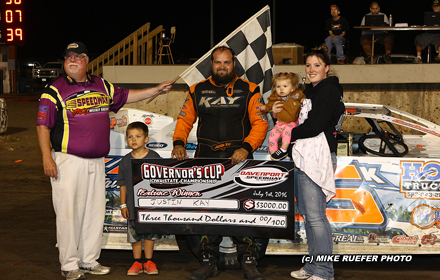 by Mike McGuire
DAVENPORT, Ia. (July 1) Ė The 24th running of the Iowa Governorís Cup is now in the books. The official stock car championship of Iowa ended with a great night of racing on the Davenport Speedway quarter-mile oval.

After winning Thursday night on the half-mile track, Justin Kay of Wheatland, Iowa backed it up with a win on the Friday, making him the 2016 Iowa Governorís Cup Champion. Kay started ninth and took the lead from Joe Zrostlik on lap eighteen of the thirty lap main.

Tyler Bruening moved steadily up from fifth starting spot to finish second. Joe Zrostlik held on to finish third. Matt Ryan and Rob Toland completed the top five.




Mitch Morris used his pole position to lead flag-to-flag in the Modified feature. Morris led all twenty-five laps. Darin Duffy started ninth and Tyler Droste tenth. The pair would finish second and third respectively. Greg Durbin finished fourth, just ahead of Justin Kay.

Thirty-three Modifieds were in the pits Friday. Four heats and two consis were needed to set the field for the feature.

Darin Duffyís third on Thursday and second place finish on Friday, gave him the Governorís Cup title.

In Street Stock action, Jesse Owen also led flag-to-flag for the feature win. A three-way battle for second eventually went to Joe Bonney, as he edged out Kevin Dickey and Rob Henry. Dickey took third, followed by Henry and Cary Brown.

The battle for the Iowa Governorís Cup ended in a tie between Owen and Rob Henry. Both drivers had first and fourth place finishes. Owen claimed the title, as the tie-breaker was the highest finisher in Fridayís feature.

After a poor showing in his heat race, Tony Olson had to start near the tail of the field in SportMod feature. Olson quickly made his way to the top five, but could not take the lead from Andrew Burk until lap eight. Burk would finish second, ahead of Dalton Simonsen, Ben Chapman, and Mike Goben, in that order.

Olsonís two wins easily locked him in as the Governorís Cup champion.

The Davenport Speedway returns to weekly point racing next Friday, July 8th. The guest class will be INEX Legend Cars and the added attraction is Powder Puff races.

Results
Davenport Speedway
July 1, 2016

IMCA Late Models
Heat #1: 1. Rob Toland; 2. Chuck Hanna; 3. Joe Zrostlik; 4. Andy Nezworski; 5. Luke Pestka;
Heat #2: 1. Justin Kay; 2. Thad Wilson; 3. Dan Shelliam; 4. Mike Zemo Jr.; 5. Andy Eckrich;
Heat #3: 1. Matt Ryan; 2. Spencer Diercks; 3. Jay Johnson; 4. Tyler Bruening; 5. Ray Guss Jr.;
Feature: 1. Justin Kay; 2. Tyler Bruening; 3. Joe Zrostlik; 4. Matt Ryan; 5. Rob Toland; 6. Spencer Diercks; 7. Brunson Behning; 8. Andy Nezworski; 9. Chuck Hanna; 10. Ray Guss Jr.; 11. Chad Holladay; 12. Jay Johnson; 13. Dan Shelliam; 14. Luke Pestka; 15. Gary Webb; 16. Jay Chenoweth; 17. Joe Ross; 18. Thad Wilson; 19. Andy Eckrich; 20. Stephan Kammerer; 21. Mike Zemo Jr.
2016 Iowa Governorís Cup Champion: Justin Kay Ė Wheatland, IA

IMCA Modifieds
Heat #1: 1. Jarrod Struss; 2. Dakota Hayden; 3. Bruce Hanford; 4. Mike Guldenpfennig; 5. Brian Webb;
Heat #2: 1. Ray Cox Jr.; 2. Darin Duffy; 3. Mitch Morris; 4. Justin Kay; 5. Bryce Garnhart;
Heat #3: 1. Tyler Droste; 2. Matt Werner; 3. Rich Smith; 4. Terry Rentfro; 5. Rob Dominacki;
Heat #4: 1. Tony VonDresky; 2. Matt Stein; 3. Greg Durbin; 4. Craig Crawford; 5. Bob Dominacki;
Semi #1: 1. Brian Webb; 2. TJ Patz; 3. Dustin Smith; 4. George Spence III; 5. Rob Dominacki;
Semi #2: 1. Bryce Garnhart; 2. Bob Dominacki; 3. Brandon Durbin; 4. Eric Barnes; 5. Todd Dykema;
Feature: 1. Mitch Morris; 2. Darin Duffy; 3. Tyler Droste; 4. Greg Durbin; 5. Justin Kay; 6. Bruce Hanford; 7. Tony VonDresky; 8. Ray Cox Jr.; 9. Dakota Hayden; 10.Craig Crawford ; 11. Bryce Garnhart; 12. Bob Dominacki; 13. Matt Werner; 14. Brandon Durbin; 15. TJ Patz; 16. Eric Barnes; 17. Matt Stein; 18. Dustin Smith; 19. Terry Rentfro; 20. Brian Webb; 21. George Spence III; 22. Mike Guldenpfennig; 23. Rich Smith; 24. Jarrod Struss;
2016 Iowa Governorís Cup Champion: Darin Duffy Ė Urbana, IA

Street Stocks
Heat #1: 1. Cary Brown; 2. Keith Blum; 3. Joe Bonney; 4. Erick Turner; 5. Jimmy Comins;
Heat #2: 1. Jesse Owen; 2. Kevin Dickey; 3. Justin Yarolem; 4. Rob Henry; 5. Perry Gellerstedt;
Feature: 1. Jesse Owen; 2. Joe Bonney; 3. Kevin Dickey; 4. Rob Henry; 5. Cary Brown; 6. Keith Blum; 7. Perry Gellerstedt; 8. Jimmy Comins; 9. Justin Yarolem; 10. Bryan Ritter; 11. Jeff Struck Jr.; 12. Tom Riggs; 13. Gene Ehlers; 14. Erick Turner; (1- DNS);
2016 Iowa Governorís Cup Champion: Jesse Owen Ė Colona, IL

IMCA SportMods
Heat #1: 1. Dalton Simonsen; 2. Andrew Burk; 3. Jake Morris; 4. Mike Goben; 5. Rob Nylin;
Heat #2: 1. Mitch Manternach; 2. Dustin Schram; 3. Henry Carson; 4. Donnie Louck; 5. Mike Haines;
Heat #3: 1. Ben Chapman; 2. Doug Burkhead; 3. Aaron Hitt; 4. Cam Goben; 5. Jacob Arp;
Feature: 1. Tony Olson; 2. Andrew Burk; 3. Dalton Simonsen; 4. Ben Chapman; 5. Mike Goben; 6. Jake Morris; 7. Mitch Manternach; 8. Doug Burkhead; 9. Dan Anderson; 10. Henry Carson; 11. Rob Nylin; 12. Mike Haines; 13. Donnie Louck; 14. Jacob Arp; 15. Rance Powell; 16. Aaron Hitt; 17. Dawson Edwards; 18. Dustin Schram; 19. Darrell Ward; ( 2-DNS)
2016 Iowa Governorís Cup Champion: Tony Olson Ė Cedar Rapids, IA